Business Overview
Sinopec Shanghai is a fully owned subsidiary of Sinopec Corp. The company is the largest in China. It produces refined oil products, synthetic resins and synthetic fibers for consumers in China. Most of the sales are in Eastern China.
Segment Information
Page 197 Petroleum products segment is equipped with crude oil distillation facilities used to produce vacuum and atmospheric gas oils used as feedstocks of downstream processing facilities. Residual oil and low octane gasoline fuels are co-products of the crude oil distillation process. Part of residual oil is processed into refined gasoline and diesel oil.
The intermediate petrochemicals segment produces p-xylene, benzene and ethylene oxide. Most of the intermediate petrochemicals are used as raw materials in production of other petrochemicals, resins, plastics and synthetic fibres. Synthetic fibres segment produces primarily polyester and acrylic fibres which are used for textile and apparel industries.
Resins and plastics segment produces polyester chips, low-density polyethylene resins and films, polypropylene resins and PVA granules. The polyester chips are used to produce polyester fibres, coating and containers. Polyethylene resins and plastics are used to produce insulated cable, mulching films and moulded products such as housewares and toys. Polypropylene resins are used for films, sheets and mould products such as housewares, toys, consumer electronics and automobile parts.
Financials
Revenue is growing relatively at a stable pace, gross profit is stable as well, Operating Income is growing throughout the years. The EPS has increased from 0.3 in 2015 to 0.57 in 2017.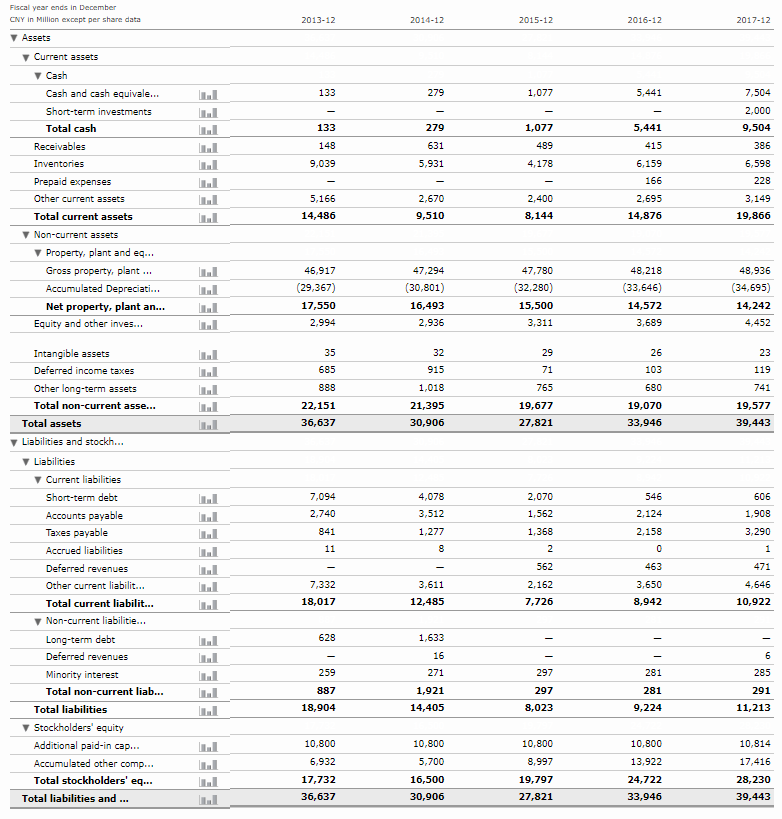 It is hoarding a lot of cash and Total Current Assets is higher than Total Liabilities by about 8,000 million CNY.
Increasing positive Free Cash Flow throughout the years and constant debt repayment over the years, bring debt level down. Capital Expenditure is relatively stable but need to take note this is a CAPEX intensive business if there is a new plant to be built.
In recent few years, ROE ratios are ranging from 18.04% to 23.2% without debt involvement. ROIC are ranging from 16% to 22%.

Debt/Equity ratio has been zero since 2015 till date. In 2018 interim report, there is increase in short term borrowing but overshadowed by increase in cash.
Geopolitical Risk
This word is being overused and prevalent due to recent tension between US and China. There could be further sanctions on Iran which will affect the company as they purchase from Iran.
Conclusion
There will be growing demands for petrochemical products due to rising population in China. There will be local and foreign competition but the present competitive advantage will be protected due to its infrastructure already in place and supply chain is already in place. I like this business for its stability and good cash flow. I do not see the company as a growth stock but more for dividend play.