We will like to spend some time to take a quick look at whether Micro-Mechanics is worth investing and whether it should be in our watch list.
Introduction to Micro-Mechanics business
Micro-Mechanics started in 1983 with a small factory in Singapore, designs and manufactures high precision tools and machines for wafer fabrication and assembly processes. In Singapore, Micro-Mechanics serves five manufacturing facilities in Singapore, Malaysia, China, Philippines and the US.
The company focuses on increasing productivity centered on a strategy called "026 + R&D" which stands for 0 defect, 2 days of response time and 6 days of cycle time and Innovation through R&D.
In 2017, Micro-Mechanics has a new system which can reduce time a piece of equipment been left idle while the machinist prepares for the next job. The new system just require one personnel to prepare the tooling offline, allows the machine to run continuously with minimum down time. This system helps to reduce up to 90 per cent in idle time.
In order to stay competitive, Micro-Mechanics has to constantly increase its investment in latest technology to increase its output yet reduce number of manhours.
Moat of the business
I think the moat of the business lies in its technology and technical know-how which was built over the years and reinforces a strong branding which builds on reliability and on-time delivery to its customers. However, if given sufficient resources, I can acquire latest technology and hire the best in the business to compete with Micro-Mechanics. I may not destroy the company over night but I will definitely erode its margin over time.
Management
Christopher Reid Borch is the founder and chief executive officer who has held the helm from day one. Low Ming Wah joined as the first engineer and is till date the president and chief operating officer.
The service contracts with management and executive directors are renewable every two years and there are no golden handshake provisions in connection with termination. There are no termination, retirement and post employment benefits. This part is very comforting to the shareholder.
The remuneration band has increased from half to a million in 2010 to up to a million in 2018 but in 2018 54% comes from Bonus where it is pegged to performance by the group.
Christopher Reid Borch still owns about 72,335,169 shares as of July 2018. His wealth is directly affected by the company's share price. I will say his interest is aligned with the shareholders.
Financial Numbers
The big five numbers for me to look out for are:
Return on Investment Capital (ROIC)
Sales Growth Rate
Earnings Per Share growth rate
Equity, or Book Value per Share (BVPS) growth rate
Free Cash Flow growth rate
Target for all the big five numbers should be more or equal to 10 percent per year for the last 10 years.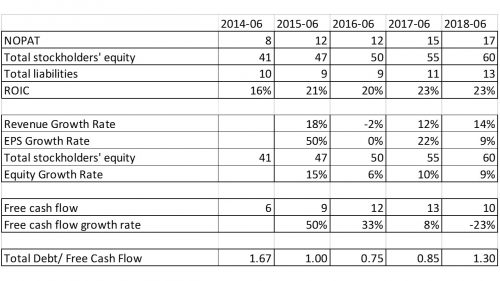 Conclusion
The strong balance sheet and financial numbers paints a very good picture for Micro-Mechanics. There will be questions on whether this company will still remain competitive in the next 10 years, whether the founder will still continue to stay on to the helm or he will have his younger successor ready to take his role.
Personally I am not vested in this company and will not initiate a position in the near term.
The semi-conductor industry is softening due to the late global economy cycle. I believe this will affect the share price and may present a good entry point. Personally, I will like to see an entry price of about S$1.0 – 1.20. Maybe in the near future, Mr Market may present this. It is 2 a.m. in the morning, it is time for me to sleep. This marks the end of my Deepavali holiday.