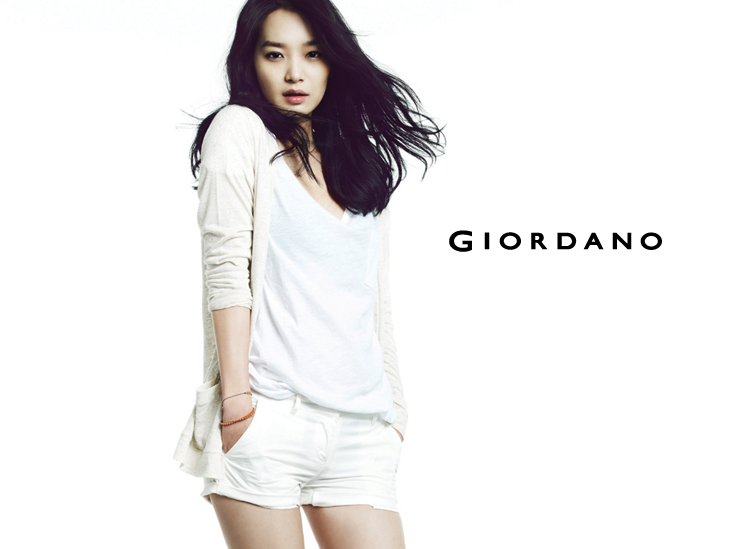 It has being very busy for me during the last month trying to look for new business on a daily basis. Sometimes I don't even know the reason why I am busy. I try to spend this late Friday night to monitor a familiar garment company Giordano. Due to the trade war, my investment has being deteriorating and I need to do a review on the stocks.
The Business
Giordano is listed on Hong Kong stock exchange under code 709. Giordano offer high quality, value for money apparel, with stores in Greater China, South Korea, Southeast Asia and the Middle East. Giordano manages stores by geographic regions and distribution channels.
Competitors
Fast Retailing is listed in Japan and Hong Kong (6288.HK) which owns one of the most popular brand UNIQLO. Fast Retailing has engaged in the Ariake Project which aims to drive profit margin at 15%, reduce cost, driving digital transformation and improve distribution. UNIQLO is growing its store openings in Great China and SE Asia. It is growing its presence in India, training employees to duplicate customer service and communication principles. Its International Business has already exceeded Japan Business. The Japan Business accounts for 6.5% of Japanese apparel market. Its Fast Retailing is in the midst of improving its GU brand.
Bossini is listed in Hong Kong (0592.HK), its group revenue decreased by 10% in 1H 2019, Gross Profit decreased by 11%. Loss was HK$26 million. It has a net cash balance of HK$283 million. Inventory turnover has increased from 92 Days in 2014 to 124 Days in 2018. The company accounts the losses to global economy losing its momentum in 2018, China and United States trade tensions and slow down in consumption in China. Same-store Sales Growth for all its stores across Hong Kong, China, Taiwan and Singapore are experiencing negative growth.
Esprit is listed in Hong Kong (00330.HK). This used to be my favorite brand during my university days, back then in 2007 the share price was HKD 120 and HKD 1.54 in 2019. In its Interim report 2019, group revenue ha declined by 15.8% to HK 6,766 million, seating on Net Cash of HKD 3,635 million with a NAV of HK3.78/ share. The management accounted the decline to its weak brand identity and product appeal. They are going to cut loss making stores and reduction in headcount.
Hennes & Maruitz AB (listed in Stockholm Stock Exchange as HM-B) is a Swedish clothing retail company known for its fast fashion clothing, operating in 62 countries with over 4,500 stores. This used to be my favorite brand when I was in my 20-early 30. There is ongoing transformation work, it is in the midst of recovery as seen in 1st Quarter 2019 results, sales in Sweden grew by 11 percent, UK by 8 percent, Poland by 15 percent, China by 16 percent and India by 42 percent. Overall sales grew by 10 percent with a total net sales of SEK 51 billion. The sale price shows its recovery as well.
Giordano Financials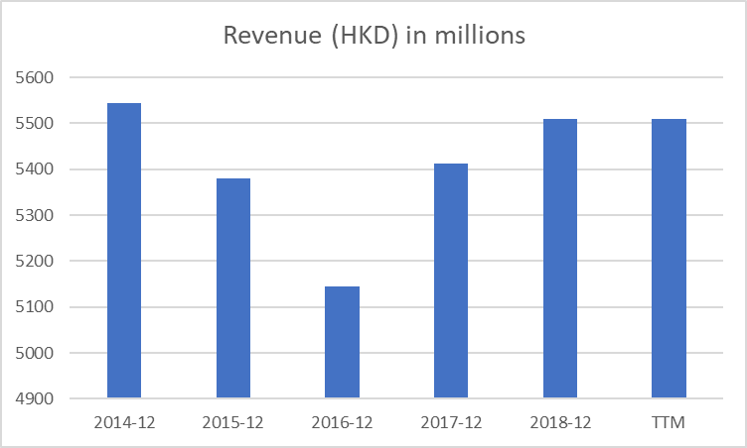 Giordano's Revenue has hit a low in 2016 and has recovered to what it seems like flat revenue of around HKD 5,500 million level.
Last 3 years Gross Profit is at a stable level of around HKD 3,200 million.
Throughout all the past 5 years, the Total Cash is mostly equivalent or slight higher than the Total Liabilities, meaning Giordano can clear all its debts with cash and cash equivalent.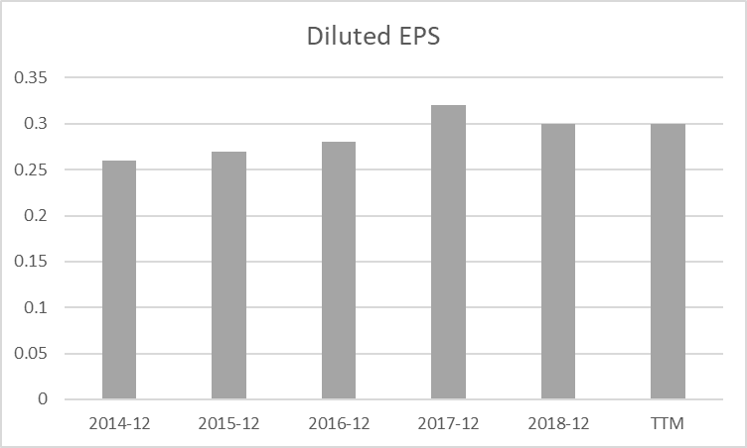 EPS is stable and slightly increased to 0.3 HKD/shares.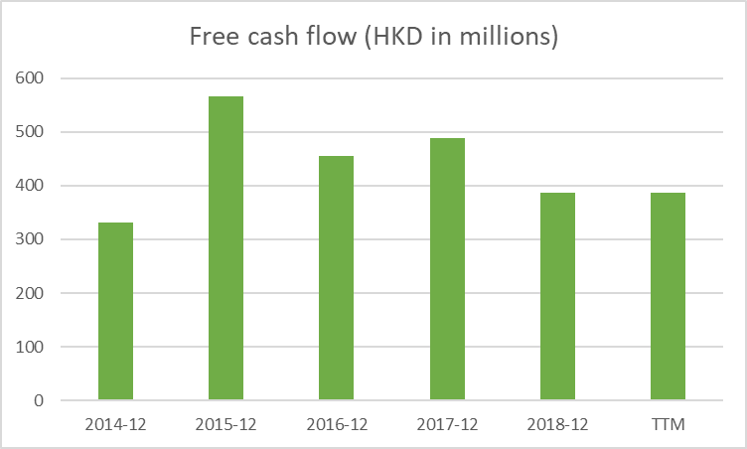 Throughout the last 5 years, Giordano is able to produce high level of Free Cash Flow at average HKD 400 million.
Giordano's Dividend Payout Ratio is exceeding 100% which is a tell-tale sign that this is not sustainable to continue to give Dividend at this level. In 2019, there is a drop of Final Dividend for year ended 2018 to HKD 0.165/share compared to Final Dividend for year ended 2017 HKD 0.2/share.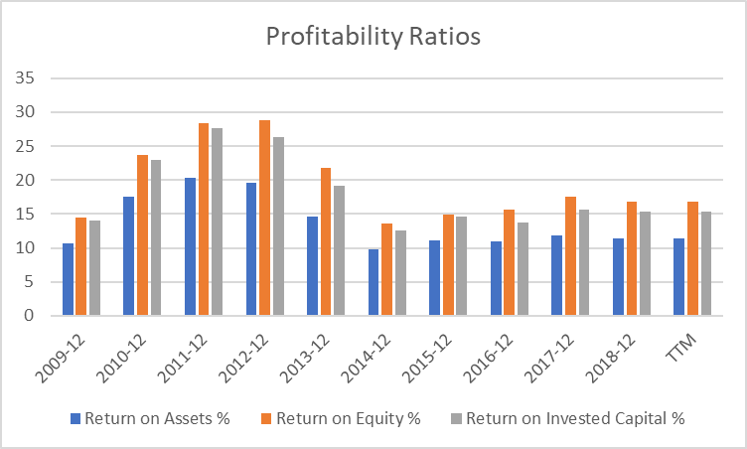 Return on Equity has remain slightly on 15% throughout the years. Return on Invested Capital stands at approximately 15% throughout the years. Return on Assets is over 10% throughout the years.
MOAT
The only moat for Giordano is in terms of economies of scale and it has reached an optimum level of production to drive down the cost of production. However, this moat is weak in terms of all other fast clothing companies will continuously aim to produce in huge quantities to reduce cost.
In fact, Giordano share some of the common weakness in terms of lack of branding. The Frog logo does not have any identity among consumers be it young or old.
I find that Giordano is not spending enough on digital transformation. I find that Shopee (refer to this company SEA)'s platform for Giordano is even much better than Giordano's own online store platform. You may think Shopee is an online ecommerce platform whereas Giordano is a traditional fast clothing company. This will not be sufficient for survival in today's context. I will write to Ms Lau to ask for her opinion on Giordano's view on investment in ecommerce User Experience. Watch out Giordano, look at what Fast Retailing is doing and be very worried.
Conclusion
I will continue to hold this company but will not add more to average down. I do not think the near 10% Dividend Yield is sustainable at this price level. I miss the chance to buy Fast Retailing at HKD 25/share when my friend told me he bought into this company because all his clothes are from UNIQLO. Sometimes investing can be that simple.