From Alibaba's December 2021 earnings transcript, Daniel Zhang explained the following:
We believe that the market has not placed sufficient value on Alibaba's business in terms of how it's being driven by a multi-engine strategy. The full value of each of these businesses together is not being reflected in where we're at today. And this is a big part of the reason why we are pursuing a share buyback strategy.

So each of these different businesses including Cainiao including our local services offering in particular Ele.me but also Lazada, Trendyol, which you mentioned are no longer simply internal business units internal divisions of Alibaba Group. They're operating as indepedent companies. So certainly going forward where we have these businesses that can create a closed loop and operate as stand-alone entities, we shall maintain an open attitude to do as we have indeed done in the past deals that bring in more diverse investor bases and help these companies grow as independent entities.
Revenue shows an increase of 10% YoY change, increasing from RMB 221,084 million in 2020 to RMB 242,580 million in 2021. However, Income from operations dropped 86% from RMB 49,002 million in 2020 to RMB 7,068 million.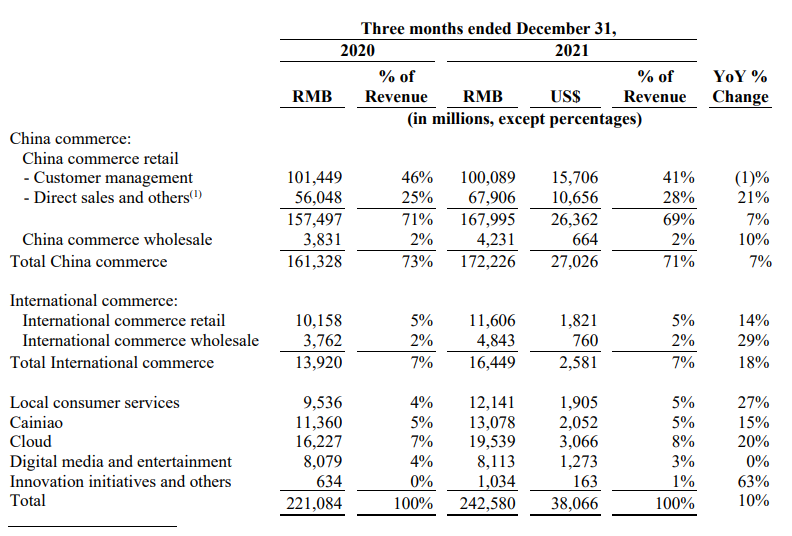 The Customer Management revenue dropped by 1% from RMB 101,449 million in 2020 to RMB 100,089 million in 2021. This is one of the key reasons why the share price was hammered because Alibaba is perceived as slowing its revenue growth in its key market – China. Alibaba accounts for this due to slowing market conditions and competition in the China e-commerce market. We will be looking at JD.com results on the 10th March 2022. Alibaba's moat in its key market is weakened. This will affect its future cash flow.
Customer management revenue, slightly declined by 1% primarily due to; firstly, slow moving condition — a slowing market conditions and competition in the China e-commerce market that resulted in single-digit physical goods paid GMV growth for Taobao and Tmall, then by categories year-over-year, GMV growth in the FMCG and home furnishing categories were faster than overall average. GMV of apparel and accessories and consumer electronic categories grew at a slower pace than overall average.

Toby Xu during earnings call
Direct sales and others' revenue represents direct sales businesses such as Sun Art, Tmall Supermarket, and Freshippo. The revenue in this quarter ended December 31, 2021 was RMB 67,906 million which is an increase of 21% compared to RMB 56,048 million in the same quarter of 2020.
In the International Commerce Retail business, the revenue in this quarter ended December 31, 2021, was RMB 11,606 million was an increase of 14% compared to RMB 10,158 million in the same quarter in 2020. This was contributed to Lazada. They account for the slower year-over-year growth due to the slower revenue growth of Trendyol which was impacted by the depreciation of the Turkish Lira against Renminbi and decrease in orders for Aliexpress in Europe.
Local Consumer Services which includes location-based services such as Ele.me, Amap, Fliggy and Taoxianda, was RMB 12,141 million in the quarter ended December 31, 2021, an increase was 27% compared to RMB 9,536 million in the same quarter of 2020.
Cainiao is the logistics and supply chain arm of Alibaba, the revenue was RMB 13,079 million in the quarter, December 2021. This was an increase of 15% from RMB 11,360 million in the quarter, December 2020. There was an increase in the penetration of cross-border and international commerce retail businesses.
Cloud business revenue was RMB 19,539 million in the quarter ended December 31, 2021, which was a 20% increase compared to RMB 16,227 million in the same quarter of 2020. Bytedance has moved off hosting Tiktok and other overseas apps on Alibaba Cloud in its international market. This was another blow to the bright spot for Alibaba. Alibaba Cloud saw growth in the financial and telecommunication industries. Management acknowledges that adjusting for the loss of 1 large customer would have grown 29%. This means the cloud business will be growing much slower than before. Cloud is losing its market growth to the bigger players and this is not a good sign.
From here, we need to continue to observe their core key market in China whether in the next few quarters will see improvement. Also, we will like to see continuous growth in Alibaba's new initiatives. Its present FCF is around USD 20.7 billion. Price to Free Cash Flow is USD 297 b/ USD 29.7b (as we are writing this) is around 10x. This is depressively cheap but the above-mentioned reasons.
There are other segments that the market has already heavily discounted. It is already baked into the share price. The year-on-year increase in the share of profit of Ant Group was due to an increase in net gains from investments. If Alibaba can get Ant Group to pass regulatory requirements and go for its IPO, the value will be unlocked. This is just a wish as a shareholder.
Let's look forward to the next quarter.

Disclosure: I have Tencent at around 5% of portfolio size, JD.com at around 5% of portfolio size while Alibaba is around 3% with 2500 shares at an average price of HKD 152/share. I may increase another 2% subject to the share price of Alibaba. This article is not an investment recommendation but more for a personal investment record. Maybe one day Alibaba's share price may drop to HKD 10 and I trace the history of my thoughts.