Alibaba's CEO Daniel Zhang announced that they will continue to invest in 3 strategic pillars of the domestic market, the global market, and cloud computing. Global annual active consumers across the Alibaba Ecosystem reached approximately 1.24 billion with a quarterly increase of 62 million consumers, putting them on track for a target of 2 billion customers per year.
Revenue of RMB 200,690 million shows an increase of 29% year on year. However, excluding the consolidation of Sun Art, revenue grew 16% year on year to RMB 180,438 million. The international commerce retail and wholesale business were at RMB 15,092 million which is an increase of 34% year on year. Cloud computing revenue was RMB 20,007 million which is an increase of 33% year on year.
Management guidance on the fiscal year 2022 revenue to grow 20% to 23% year on year, this means last quarter will experience a lower forecast. If you are reading this 1 week after results are released, the share price will already reflect this slowdown. The free cash flow was RMB 22,239 million which was a decrease compared to RMB 40,540 million in the same quarter in 2020. Alibaba is investing in its key strategic areas. All investment will take time to reap its fruits.
Commerce
For twelve months ended September 2021, Annual Active Consumers were 863 million on China retail marketplaces and new retail businesses. They have the first single-digit physical goods GMV year-on-year growth due to competition within China e-commerce market.
The bright spot is for Taobao Deals (淘特) which offers value-for-money products sourced through Community Marketplaces business and incentivizes bundle deals and selling directly from warehouses, farms, and factories to reduce cost for consumers. We are not sure the exact detail for the user interface but this sounds like what Ping Duo Duo is doing for the lower-tier cities. There were over 240 million AACs on Taobao Deals with an increasing percentage of new consumers from lower-tier cities. The lower-tier cities are the next frontier for Alibaba and JD.com to focus on.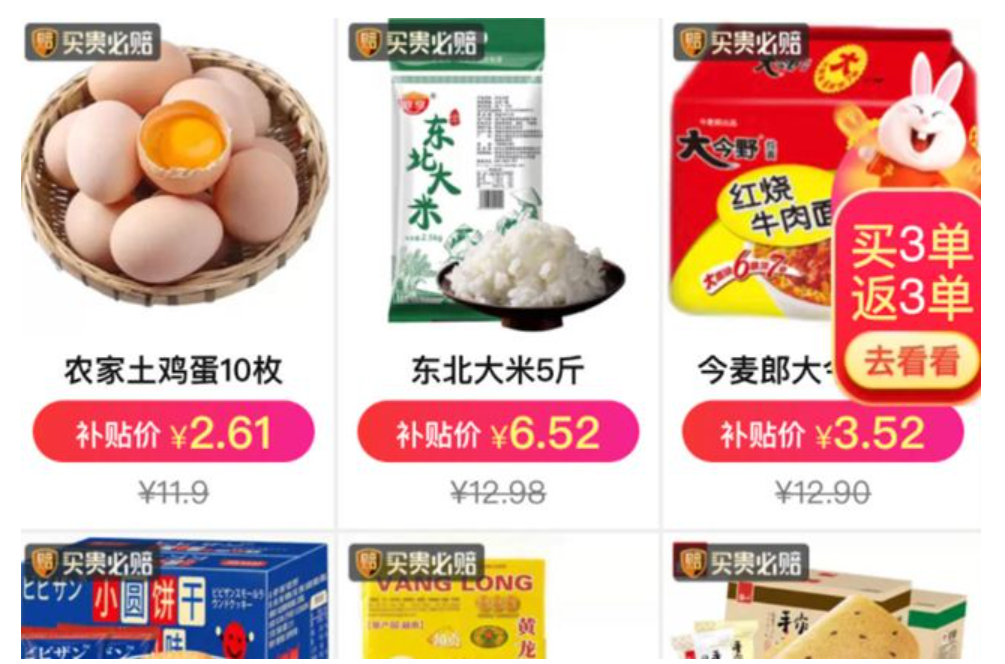 Community Marketplaces continues to expand coverage into lower-tier cities and grow GMV 150% quarter on quarter. Ele.me continued to invest to grow users base and improve on its user experience, its AAC growth is 28% year on year.
International Commerce is said to achieve 285 million AACs in the twelve months ended September 30, 2021. It shows a growth of 34% to RMB 15,092 million. Lazada is the Southeast Asia e-commerce platform that experienced 82% year-on-year growth but if you look at the below image it will show data gathered from "similarweb.com" that Shopee has thrown Lazada far behind in the year 2020. I saw lots of Shopee and Lazada advertisements on TV this year, they are keeping Mediacorp alive in terms of advertisement revenue. Trendyol is the biggest e-commerce platform in Turkey with its own logistics arm has a growth of 80% year-on-year for September 2021.
Cloud Computing
Cloud computing revenue grew 33% year on year to RMB 20,007 million, serving customers from the internet, financial services, and retail industries. Alibaba Cloud is top of the mind cloud database in China. Anolis OS is an open-source operating system and provides services through vendors and the community to strengthen its ecosystem.
Digital Media and Entertainment
Youku's daily average subscriber base increased 14% year on year, driven by quality content and membership program.
Revenue by Segment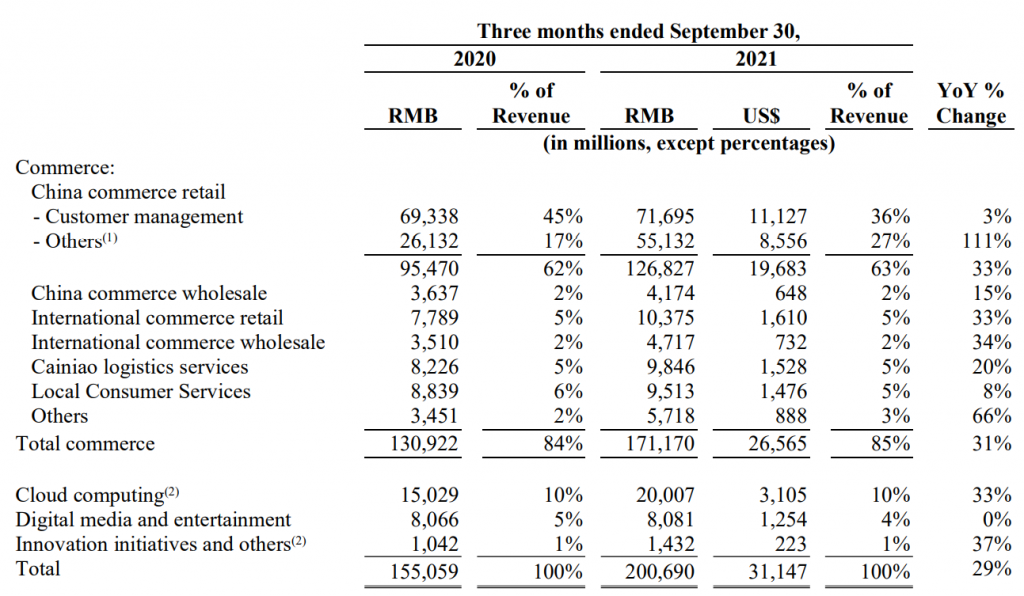 "Others" revenue is derived from Sun Art, Tmall Supermarket and Freshippo are growing rapidly.
Conclusion
We believe that Alibaba is facing stiff competition within China itself with the regulatory measures in place, the other e-commerce players are eating away their incumbent market share. Internationally in the Asia Pacific region, Alibaba is faced with another e-commerce giant Shopee. Meanwhile, Alibaba is investing its cash flow into other growth segments, which means that it will take a while to see the fruits of its investment. We won't average down at this point but wait for more safety margin.
This is not a recommendation for a buy or sell call on Alibaba.