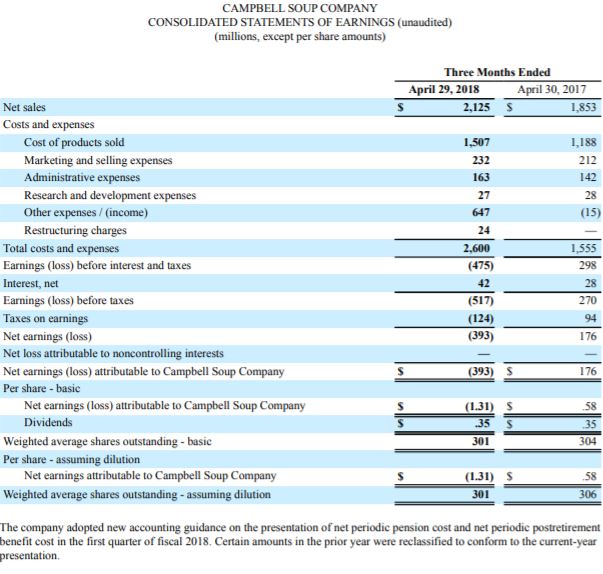 Looking at Net Sales, April 29 2018 increased to $2,125 but with the acquisition results in Cost and Expenses – Other Expenses to increase to $647. This results in a total costs and expenses of $2,600. Hence, the EBIT was a loss of $475.  Including Interest, Earnings before taxes increase to $517.  The total net earnings is $393.  Net earnings per share for 2018 is -$1.31 compared to $0.58 in 2017.
Long term debt has increased by four fold from $2,270 in 2017 to $8,080 in 2018. Total debt level is at $9,843 which is unhealthy.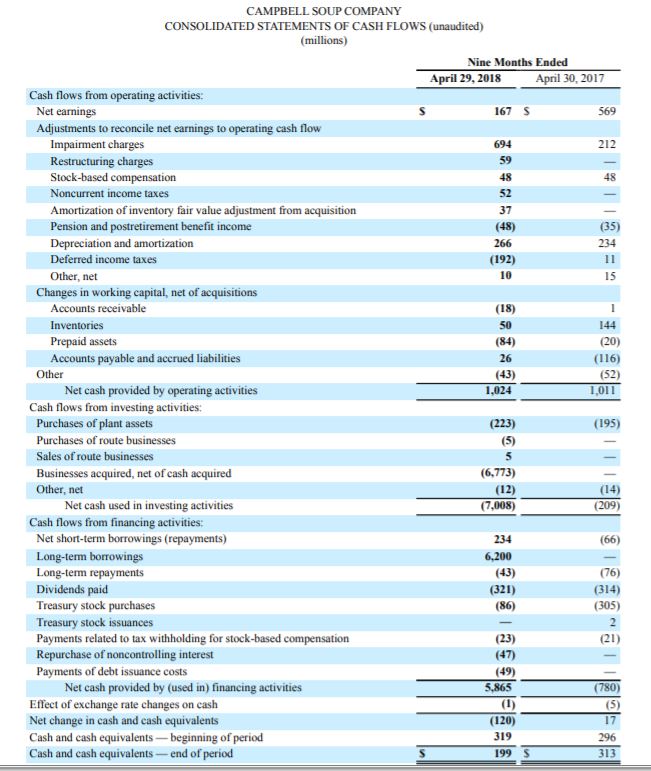 From the consolidated statements of cash flows, Net Cash provided by Operating Activities is at $1,024 in 2018 which is of similar level to $1,011 in 2017.  From Net Cash used in Investing Activities, $6,773 is used to acquired business. From Cash Flows from Financing  Activities,  in 2018, $6,200 was raised as long term borrowings for the acquisition.
In another post, I will highlight how acquisition has weaken a company's financial strength.  Campbell stock price dropped by more than 12% in a single trading day, closing at $34.37.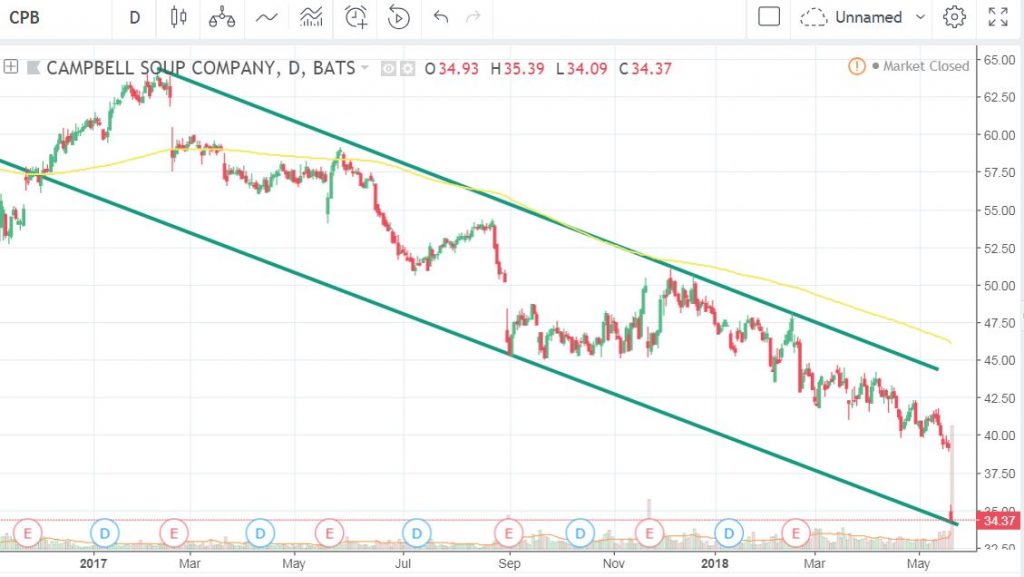 CFO Anthony Disilvestreo said that due to cost inflation, Campbell is forecasting that margins will continue to be squeezed in 2019. CEO Denise Morrison is said to retire and it happened swiftly. It is said to attribute change in consumer taste as younger consumers are not attuned to its businesses like soup, V8 juices and SpaghettiOs. While older consumers are becoming more conscious on what they are eating.
The company took an impairment charge of $694 due to weaknesses in Fresh segment which includes fresh food and drinks brand Bolthouse Farms, Garden Fresh Gourmet salsa and refrigerated soup. Bolthouse Farms was acquired in 2012 for $1.55 billion but yet to prove its return on investment. Its fresh drinks business is facing stiff competition from Coca-Cola and PepsiCo.
Campbell may break away some of its non-performing businesses and sell them. Campbell will pose as a potential candidate for acquisition by Kraft-Heinz.