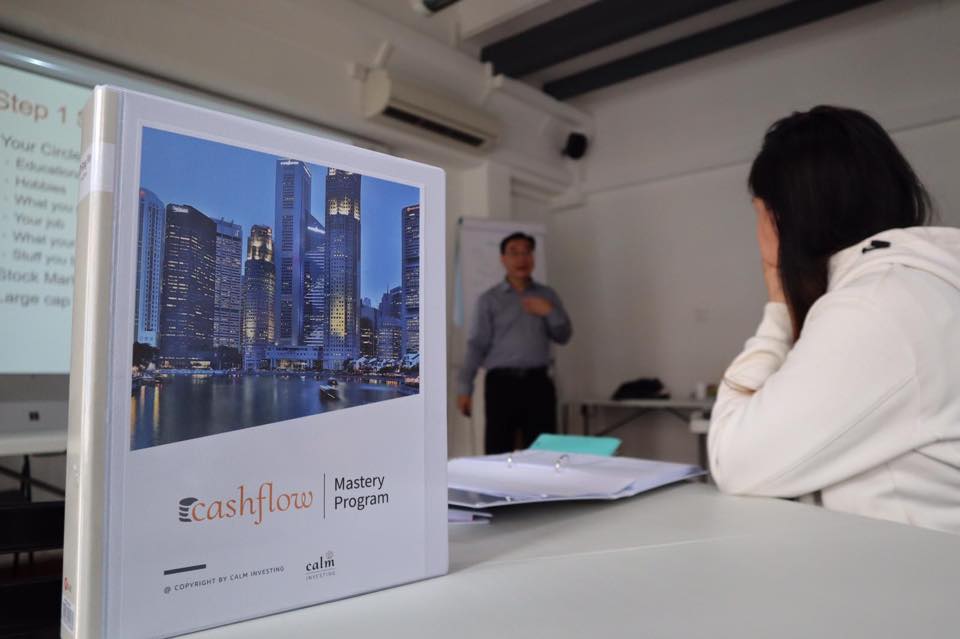 I attended CALM's flagship investment strategy Cashflow Mastery Program between 27th-28th June 2019. I want to share what I have learnt from the program.
Why should we invest?
The za chai fan or economy mixed vegetable rice in hawker center has increased the price from S$2.50 (2 choice of vegetables and 1 meat) to S$3. That is an increase of 20% in price! Our daily food and beverages are increasing in prices.

Recently in July, the electricity tariff is going to increase in price by 6.4%.

How about our salary increment? You can read here. It is just going to increase by 2.6%. I will like to reiterate the fact that business owners need to keep their expenses low in order to generate a higher profit. This means they will try to keep your salary low as well to compete in the global market. Be grateful for a job to put food on table and there is increment. There are plenty of retrenchment out there. Some companies have stopped hiring and pay increment.

With all the increase in cost of living, our meager pay rise and unstable job market, we need to find alternative ways to increase our income, beat inflation and achieve more to live comfortably and able to retire at 67 years old. If you put your money in the bank, your money will be eroded by difference in inflation and the fixed deposit rate.

This is WHY I want to learn about investing. I want to make my money work harder for me. I want to grow my wealth because I want to have the freedom of choice. I want to have passive income from investment in order to spend more time with my family.
Why most people do not invest?
We have heard many accounts of "investors" of our parents' age lost money in the stock market. My parents lost a lot money in the stock market. I look at their CDP account and ask them why did they buy this company's stocks? They replied, "Back then we just buy IPOs and it was said all IPOs can make a lot money." Sometimes, they replied, "This company's price is very cheap, it is only $0.05 can buy many stocks." They do not understand the saying of Price is what you pay and Value is what you get.
Some are risk adverse, they have a belief that the stock market is like a pool of crocodiles which will tear anyone apart if they dip inside. They feel that their capital needs to be preserved and cannot have temporary "paper losses".
Some feel that they do not have time to research on companies or acquire the right skills to start their investment journey.
How can this program make a difference?
Fundamental Analyis
Cashflow Mastery Program focus on Singapore and US Stocks through Value Investing. Value Investing is to acquire companies at huge discount to intrinsic value. This discount level is defined as Margin of Safety.

Firstly, the chief trainer Liong Hai who has already achieved Financial Flexibility, is doing this program purely out of passion to educate the rest to add value to their lives, increasing their financial literary and knowledge . He guided us through a 5-Steps Stock Investment Framework and risk management.

1) Stock Screening
2) Fundamental Analysis
3) Valuation
4) Market Entry
5) Market Exit
– Risk Management through Portfolio Sizing

Personally I felt that it is a very clear and systematic approach. He helps to explain how to develop our circle of competence, develop an investment philosophy for us to only focus on buying Wonderful Company at Fair Value. He explains the various Economic Moats which can make a company Wonderful, having a competitive advantage over other competitors to maintain its profit margin.
I like the portion about Evaluation on Management and why the key drivers of the company make or break the company. How do we evaluate whether they have a skin in the game or the management is just there to milk the system, making themselves rich.

The fundamental analysis consists of scrutinizing the profitability, financial health, growth drivers and formulating a Risk/ Bear Case. The Bear Case or playing Devil's advocate is something I learn which I find very valuable. "What if I am wrong?" This is something which I never think of in the past before clicking the buy button. If everything is so rosy, who is on the other side of the table who thinks differently from me? Why is he selling me his shares?

He guided us on how to use the Fair Value Calculator and challenges us on how to use the forecast growth level. Then he taught us on using relative valuation using PE ratio and compared to the industry PE ratio or past 5 years average PE ratio.

It is a complete investment framework for Day 1 and it renews my investment perspective. I gain clarity that I have not been going through this process diligently to come a position which I further study the financial reports to further check on my understanding. It is hard work in value investing. It takes effort to learn and practice.

With the community, we can duplicate all our efforts. For instance, we each contribute one company research during the class and we ended up with 7 well researched companies. We leverage on one another's circle of competency and reduce our time to look into other companies. This is a very valuable aspect of this program.
Technical Analysis and Options
On Day 2, Marcus Wong, the technical analysis expert guided us through some fundamental technical analysis only because this program is not about all the fanciful technical analysis. The key is to acquire a good sense of Support, Resistance and Trend Lines.

The best part comes in at the Options. Marcus taught us how to sell put and collect premium.
Putting it all together…
The Cashflow Mastery Program aims to help you discover your key 10-20 wonderful companies and understand their estimated Intrinsic Value. If the share price is much lower than the Intrinsic Value, with sufficient Margin of Safety, you can buy the stocks. If the share price is not at the desired price level, you can use option to sell put at desired price to collect premium while waiting. This helps to create a constant monthly cash flow of premium. By selling put at the desired price level, we can generate a good 1% per month return. The trainers also explained how to use risk control and not just blindly chase after premiums. I have learnt this the hard way, I had been greedy in the past and now I have learnt the proper way to collect options premium. You can read about this personal experience of mine when I got greedy here.

The Cashflow Mastery Program at this moment is considered under valued when compared to 8VIC and Options Mastery Program. Cashflow Mastery Program is combining the best from both courses, further improved based on the CALM founders' personal investment journey to derive the most concise investment framework to grow your capital while reduce the risk.

The end of 2 days program is just the start of investment journey, the trainers provide 8 hours of dedicated 1 on 1 coaching to help evaluate your portfolio and options strategies. As students of the program will entitle 1 year of access to Financial Gym where trainers share in depth on companies they have conducted research on. The Facebook closed group is a lifetime members only platform for the students to learn and discuss investment issues within the community.

As the course gains traction, usually the price will increase. Hence, I will urge you to go for this course now rather than later. Take investment into your own hands to create your own stream of income and learn this skill set which can bring you further in life if you diligently practice it.
Conclusion
My personal takeaway from this course is I have learnt a simple, easy to adopt method yet effective in filtering out only wonderful companies. After conducting the valuation method and if I feel that it is reasonably priced or there's a certain level of Margin of Safety, I need to read more in the Annual Reports, Google News, Analysts' reports on their presented facts and gain more knowledge on the company.
I have gain confidence again to do options using this Fundamental Analysis approach.