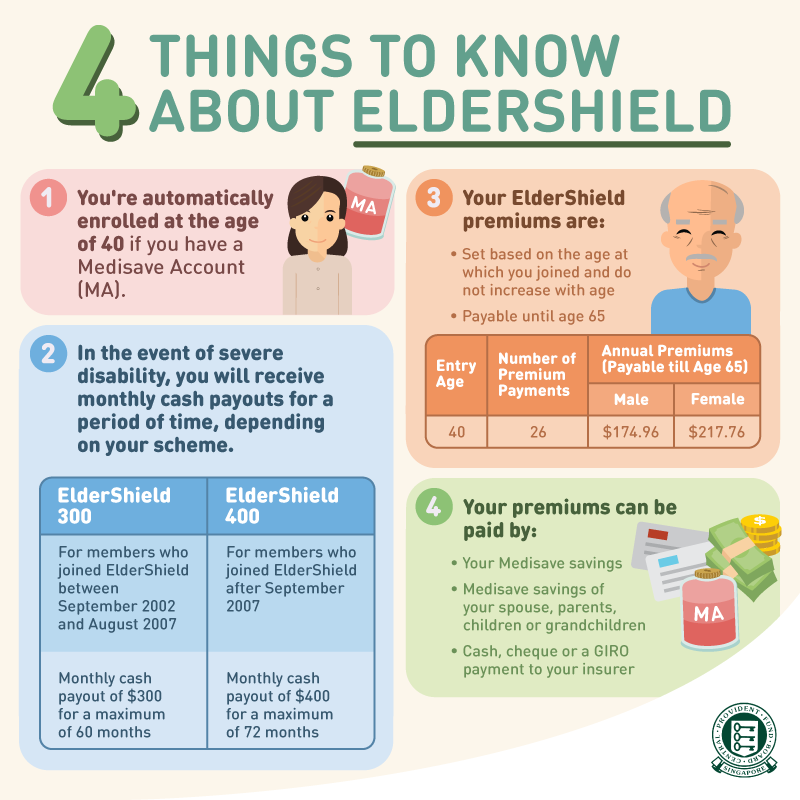 Eldershield is a severe disability insurance that provides basic long term care and basic financial protection. It provides payout up to maximum 72 months.
CPF members with Medisave account will automatically be enrolled under the Eldershield program at the age 40. There is no requirement for medical assessment. They are mainly three private insurers appointed by Ministry of Health to run the ElderShield.
– Aviva
– Great Eastern
– NTUC Income
What is "Severe Disability"?
The definition of Severe Disability refers to the inability to perform any 3 of the below 6 activities. Refer below for illustration:
1. Transferring – When we wake up, we need to get off from the bed
2. Mobility – Then we walk from the bed to toilet
3. Toileting – Then we need to go to the toilet to wash up
4. Bathing – Whether we can take shower by ourselves
5. Dressing – Dress up after shower
6. Eating – After shower, we can eat our breakfast
If you or your loved ones cannot perform any 3 out of the 6 activities, you can submit claims under the ElderShield plan.
There are two ElderShield plans. Those who joined after September 2007 will be under the ElderShield 400 scheme.

The ElderShield 300 scheme will pay out S$300 per month up to a maximum of 60 months.

The ElderShield 400 scheme will pay out S$400 per month up to a maximum of 72 months.
ElderShield Premiums
ElderShield Premiums are payable by Medisave. The premium does not increase with age but fixed based on the age you buy the policy. As seen in this link for the premium table, you will realize that it will be wiser to enter earlier, the premium will be lower and you enjoy the coverage for life. The premium is payable until the age of 65.
ElderShield Supplements
ElderShield Supplements are meant for higher coverage, meaning higher payouts and duration of coverage. The ElderShield Supplements are provided by the three private insurance companies mentioned earlier. You need to have a basic ElderShield cover before you can apply ElderShield Supplements.
Change of ElderShield Insurer
If you want to change ElderShield insurer when coverage has commenced, you need to terminate your plan with existing insurer and apply for new cover with new insurer. You may be subjected to medical assessment.
In the next article, we will explore CareShield. The next exciting scheme which is compulsory for 30 years old and above.