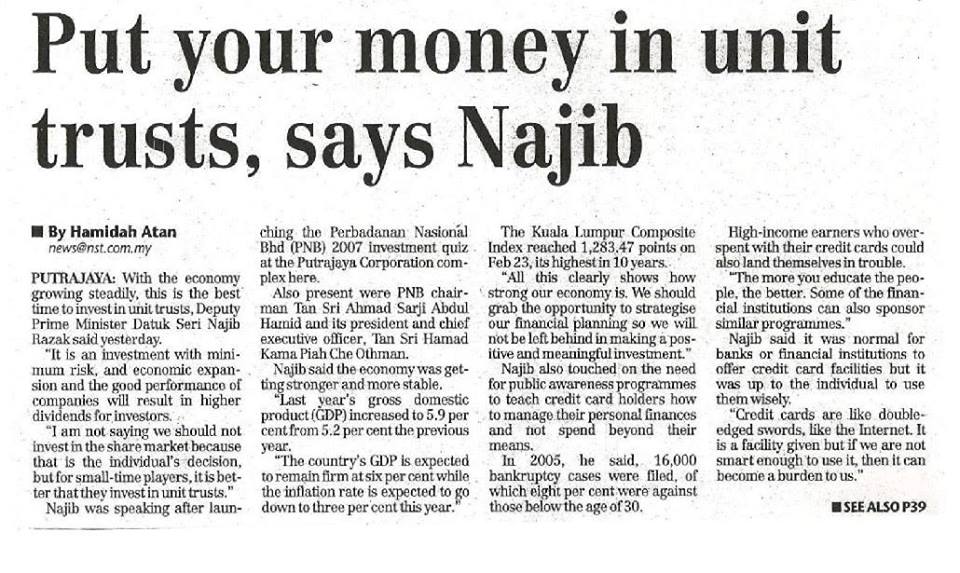 In this article, we want to look into the fees and charges for Unit Trusts. You can read more about Unit Trust in our earlier post here. Fees can reduce the returns from unit trusts. Fees are payable irregardless of performance of fund. To make sense, your fund needs to grow in value and it must be greater than the fees and charges incurred.
One-off fees and charges are fees which are usually charged once per transaction when you subscribe or redeem a fund. These fees are paid to distributor and may be negotiable between you and distributor. Subscription fee or Initial Sales Charge is otherwise known as "front-end load", it is payable when you buy a fund, ranges from 1.5%-5% of your investment. Distributors that levy initial sales charges do not usually charges redemption fees. Redemption fees or realisation charge is known as "back-end load", it is payable when you sell or redeem the fund. Some funds reduce the redemption fee if you hold your investment over a longer period of time. If they charge redemption fees, usually do not have initial sales charge.
Switching fee is payable when you switch from one fund to another managed by same fund manager. It cost usually about 1% of your investment. If you are been charged a 1% for switching fee, you would not be charged initial sales charges for the transaction. Do be wary if your financial adviser keeps asking you to switch funds. This is an industry terminology called churning or he is trying to make more commission out of you by asking you to trade or switch often between funds. It is a frown upon practice and will be investigated by MAS.
For recurrent fees and charges, there are two types of recurring fees. There are fees that are payable by you such as platform fees. Platform fees are incurred when you buy funds through a fund platform, it ranges from 0-0.3% per annum of the total value of the fund holdings. This amount is payable to the fund platform provider. Another type of fee will be wrap fee, it is payable to distributor if you sign up for a wrap account. We have seen companies charging 2% per annum of the total value of assets (under wrap fees) and 1% initial sales charge. This is ripping the customers off.
Fees charged to the fund will include management fees which is payable to the fund manager, it ranges from 0.5%-2% per annum of the fund's NAV. There are other fees such as trustee, administrator, custodian, accounting, valuation provider and auditor. All these cost charged to the fund make up the total expense ratio (TER) The TER is usually between 1% – 2.5% of the fund's NAV.
It is important to find out the maximum amount that the fund's charges are. Request for a clear breakdown of all the fees and charges that you are paying for your investment. We do not believe in charging wrap fees for plain vanilla investment in unit trusts. There is no advisory work here. It is reasonable for Initial Sales Charges, meaning charges on initial invested amount.