The COVID-19 virus pandemic has forced millions worldwide to work from home. Many are delaying the return back to offices. Twitter told its employees that they can work from home after the pandemic ends. Google has extended its work from home policy till the end of 2020.
There will be a shift towards working from home which will gain momentum in the next few years, there will be less density in office and lesser time spent on commute. A study by Bloom showed that remote working would benefit employers and employees. Remote working improves productivity and well-being.
With more jobs moving towards remote working, the demand for offices will decrease. It means that employers have the choice to hire the best of best employees globally. For employees, it means that you need to acquire a skill set that is highly sought after in order to command good money. Employees will all become self-employed, everyone is a free agent, we need to manage our skill sets and sell it to the next buyer aka employer. Employment will be on a project by project basis. Employees may even take on multiple projects at the same time and manage them like a project manager.
Remote working in Singapore
Singapore encourages employees to continue remote working post Circuit Breaker on 1st June 2020. I saw this quote by Mr Rahul who is the director of Prudential Public Accounting Corporation," If you know your job and you do your job efficiently, there is no reason why you need… to sit at the table from 9 am to 6 pm." I read in the newspaper, local banks are having 90% of their call center staff to work from home. From a survey, 9 out of 10 employees want to continue to work from home. This will take a toll on the office rental market as more businesses will reduce their occupancy space to save costs and allow more employees to work from home.
Personal Reflections
My stint in Malaysia is like a project for me. The industry is still related to what I have been doing but a different function of it. I am learning new things every day and taking things positively.
Sometimes I have wild thoughts like doing geo arbitrage in terms of moving to Malaysia. It is taking advantage of the lower cost of living in another country. We have seen plenty of Singaporeans who move to Johor to retire because of the property cost much lower than Singapore. The below image shows a 4165 sqft house which costs SGD 580k. Where can you find this in Singapore? How about RM 369k freehold condo in Bukit Bintang, KL City, Kuala Lumpur?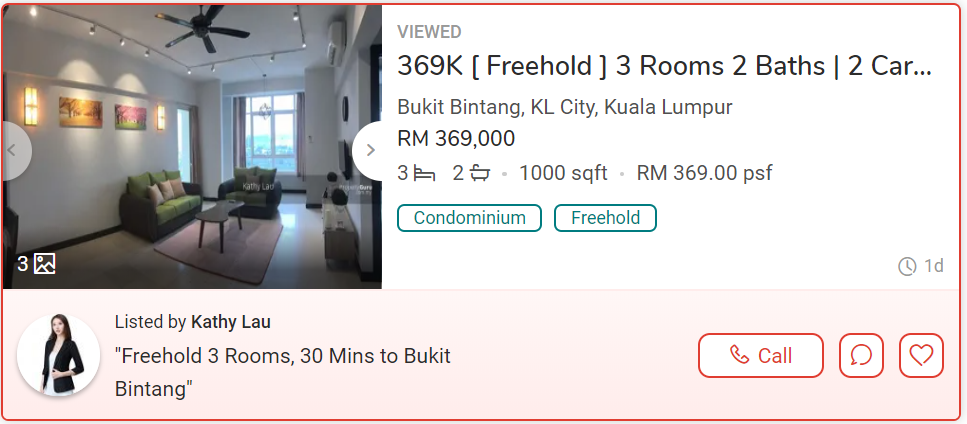 With a low percent of your net worth in non-current assets and the rest in liquid net worth sounds like the ideal future for the family. Do note that there is a restriction for foreigners to buy properties price RM 1 million and above in Kuala Lumpur and Johor Bahru.