Dividend Income and Property Management Income update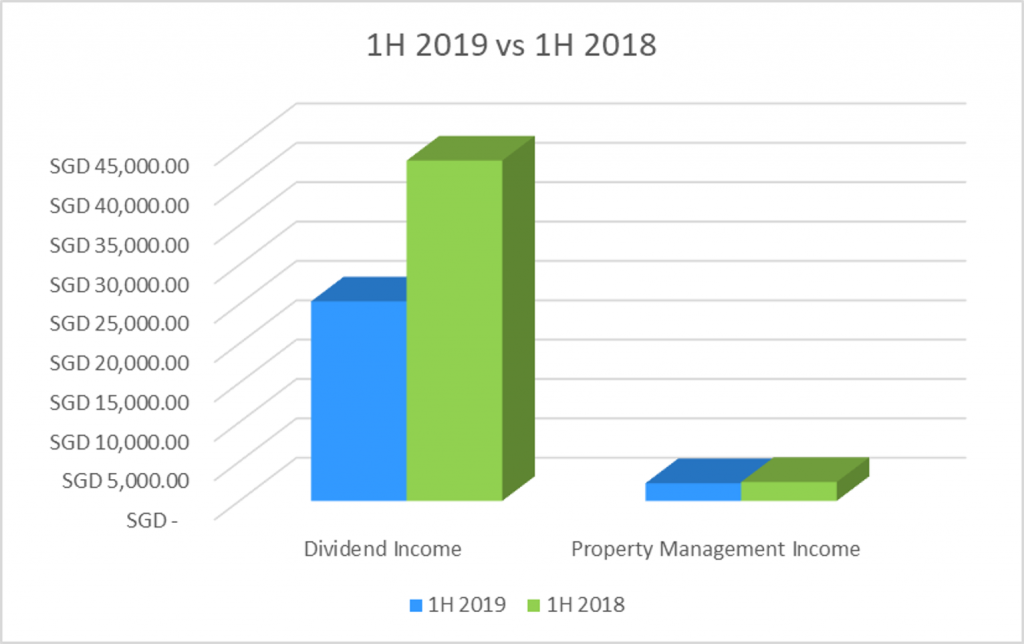 For the 1st Half of 2019, we received SGD 25,342 as Dividend Income as compared to 1st Half of 2018, SGD 43,238 as Dividend Income of which SGD 20,000 is Special Dividend. Less the Special Dividend, the Dividend Income is comparable to last year. However, we saw slight dividend cut due to deterioration of business.
Property Management Income for 1st Half of 2019 is SGD 2,250 while 1st Half of 2018 is SGD 2,400. In 2018, the FI ratio is 0.83. Financial Independence ratio stands for Total Passive Income divided by Total Household Expenses.
Due to some issues, we need to shift our portfolio from Lim & Tan to IBKR for foreign stocks and DBS Vickers for SG & MY stocks. We will write in a separate post about this experience of porting stocks from one brokerage to another. We have used Lim & Tan for more than a decade, we will rather not shift to other brokerage firms even if they are cheaper.
Pay off Margin Account
As of March 2019, we had about SGD 98,800 in Margin account. We had to pay off this amount before we can transfer our portfolio to other brokerage firms. We had to sell one of LSE stocks to pay down SGD 50k and we injected another SGD 50k to pay down the rest of the Margin account. We did not enjoy this process. First, you are being force to sell a stock to raise fund. Second, you are using cash to pay the remaining outstanding amount which can be used to buy other stocks. Furthermore, we were only allow to sell down our positions and not allow to purchase any new stocks within this transition. We cleared the Margin account in May 2019, we were being forced to be "debt-free".
In June, we have completed the porting over to IBKR and DBS Vickers. We are ready to deploy our war chest when the opportunity presents itself.
April Expenses
In April, our helper went back home to start her own online business and look after her family. We are still in the midst to consolidate May expenses. In May, we have a new helper and need to pay for her 3 months salary upfront and maid agency fees.
Since 2018, we are trying to reduce our expenses and tried to increase our savings. We wiped out our most of our savings to pay off the Margin account and rebuild towards end of June. I received 2 partial payment for commissions from the 1st project. That helps.
I keep telling myself that 4 years from now, I can have what I want but I cannot have everything now. I just need to bite my lips and continue this path.