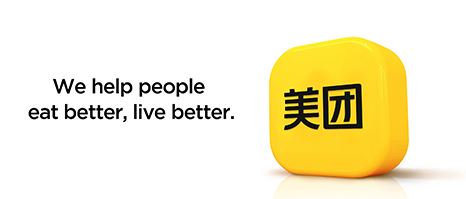 Meituan is China's largest service-focused e-commerce platform, connecting more than 300 million young annual active buying consumers with more than five million annual active local merchants in China. Meituan's mission is "We Help People Eat Better, Live Better", providing a one-stop daily life services platform aiming to improve the overall way of life for consumers through its mobile solutions.
Business Model
Meituan is the leader across its four major business groups: In-store dining segment which is the largest dining platform in China, lifestyle/ entertainment segment which includes wedding, beauty, mom/kids, KTV, renovation, leisure and entertainment services, On-Demand Delivery segment is the delivery platform and Travel segment which covers accommodation, domestic travel, international travel, and transportation. If you are in Singapore or Malaysia, imagine your Grab app but with more features. I believe Grab is gearing itself to become a multiple platforms app like Meituan.
From the prospectus, it mentions that Meituan focuses on mass-market, essential, and high-frequency service categories. The platform attracts a larger and growing consumer base, increase stickiness and cater to consumption habits. This means the target market is hugely based on China's consumers and high frequency means the revenue will be higher based on customer base x frequency x sales. The network effect is the strongest moat for the business. As the number of users grows, the more businesses will sign up to the app, the more offers thrown by businesses, this attracts more users. This reinforces the growth and stickiness of the business.
Management
As of the time of issue of Interim Report 2020, Wang Xing owns 573,188,783 Class A Shares, with 45.86% voting rights. Mu Rongjun owns 125,980,000 Class A Shares which represent approximately 10.08% of voting rights. Wang Xing founded meituan.com in 2010. Prior to meituan, he founded xiaonei.com which was later renamed as Renren, he co-founded fanfou.com, a social media company which specialize in microblogging. Rongjun was a software engineer and project manager in Baidu before he cofound meituan. Wang Huiwen is a co-founder and responsible for the day-to-day management duties and on-demand delivery.
The majority of the shares are still owned by the founders-led team. There are options for shares dilution for employees but they need to stay vested for an average of 5 years.
Financial Results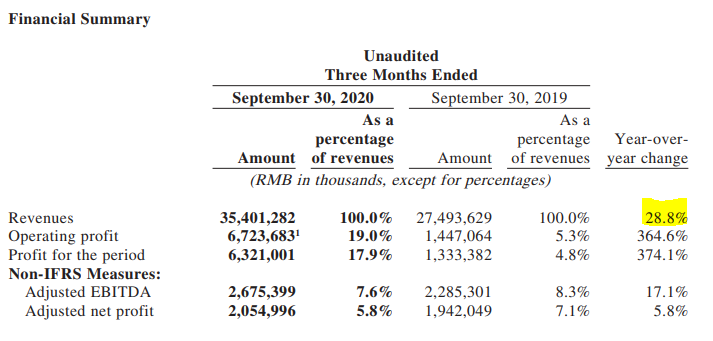 Revenue for September 2020 grew by 28.8% to 35,401,282 thousands RMB from 27,493,629 thousands RMB.

Food delivery revenue grew 32.8% during the pandemic year and new initiatives grew astoundingly to 43.5%. Travel is limited because of COVID-19 and Chinese are traveling within the different provinces. The power of rising affluence is something we need to take note of. If you look at the the operating profit, new initiatives are still making losses but one day when the projects are successful, this can increase the total operating profit by many folds.
Refer to the above, the new initiatives are -ve 2B, if we remove that, the total operating profit is 8.7B instead of 6.7B.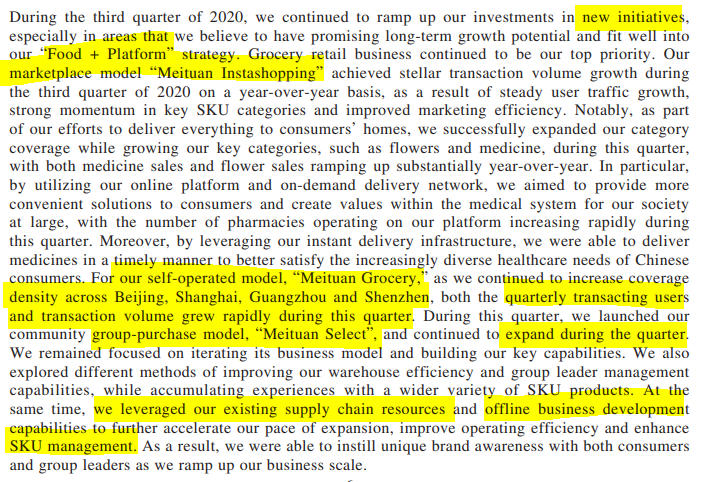 Another key factor to monitor is this:
This PaaS depends on number of users and active merchants. We need to monitor that the growth is still trending upwards and not slowing down. Once it hits a saturation point, it will affect the growth story of the business.
The revenues from Commission and Online Marketing services are increasing. There should be minimum incremental cost to bring in more revenue once the consumer or merchants are onboard.

The report mentioned that the total borrowings divided by total equity attributed to equity holders is 8%. If you add Prepayments, Short-term treasury investments, Restricted cash and Cash total, it can easily cover Total Liabilities of RMB 49 B.

Conclusion
I like this business a lot and I will like to own it. Maybe when Grab goes for listing, I will buy Grab instead. I am a user of Grab. Maybe Grab can study and adopt some of Meituan's strategies. Maybe I should apply a job at Grab and help them with this.