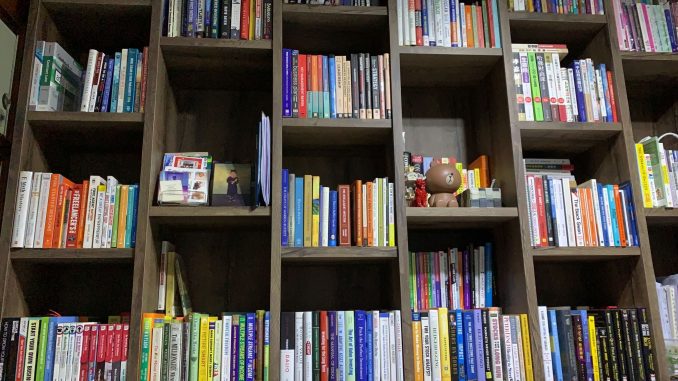 Recall the options that I execute previously, I believe they will be assigned after the market's closing on the 28th of October 2022. 1500 x HKD 40 + 300 x HKD 250 + 500 x HKD 185 + 1000 x HKD 70 = HKD 297,500 which is approximately SGD 50k. This will bring the margin level close to SGD 100k
Sell 3 PUT 6.HK Power Asset 28th Oct 2022 SP 40 – premium 0.35 (1500 shares)
Sell 3 PUT 700.HK Tencent 28th Oct 2022 SP 250 – premium 2.95 (300 shares)
Sell 1 PUT 9618.HK 28th Oct 2022 SP 185 – premium 3.9 (500 shares)
Sell 2 PUT 9988.HK 28th Oct 2022 SP 70 – premium 1.62 (1000 shares)
Meanwhile, I have suffered a trading ban for 6 months since October, it is an excellent time to save money. I will pump cash to pay down the margin when the foreign currency exchange is in my favor. The aim is to save as much money as possible while waiting for the trading ban to be lifted.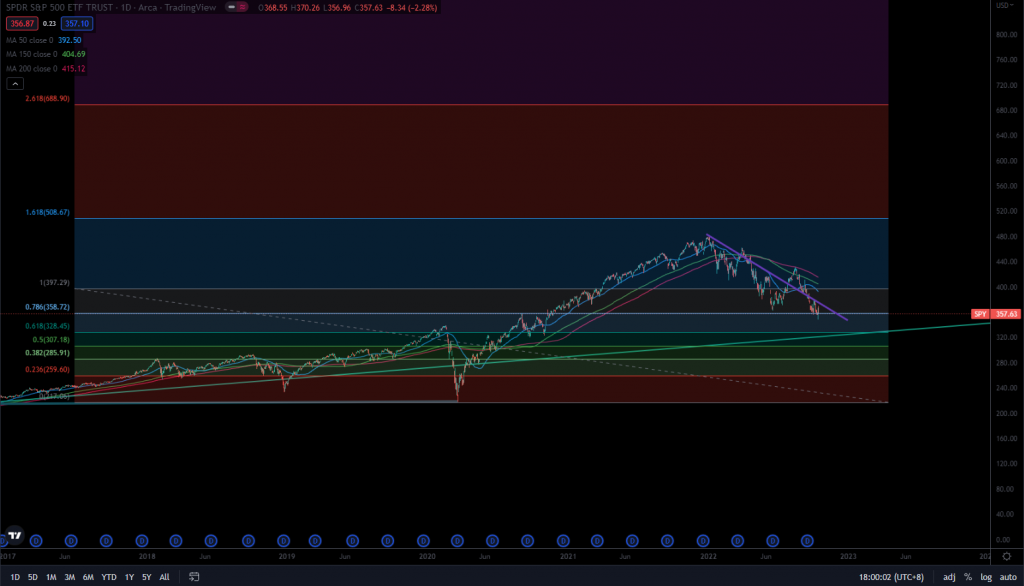 I believe there are another 20 more points for SPY to drop, the ideal SPY share price will be around the 326 range. Hopefully, SPY will go rangebound from there. Rangebound at 320 – 350 is good for more share accumulation.
There's lots of liquidity that will be squeezed out from the market, we won't know when the market will hit bottom. We can only average down when you believe this is a cheap and good enough deal for ourselves. If you find a Hermes Birkin with an original price of SGD 25,000 and now it is selling at SGD 12,500. Is it a good deal for you? Maybe a few months down the road, the Birkin's price drops to SGD 6,250. Will you panic? Isn't this an even better deal for you? You may have purchased at SGD 12,500 and you cannot afford another bag even if it is SGD 6,250. Then you may feel very upset. It feels shitty when you realize there is a cheaper deal. If you have the funds, you can also buy a 2nd bag. When Birkin's price recovers beyond SGD 25,000 and now price at SGD 40,000. Your SGD 12,500 deal still looks like a genius. Sometimes the price recovery is very fast, you may miss the deal. It can be a case of SGD 12,500 increases to SGD 20,000 then you curse yourself for not buying and wait for another correction. Then it just goes up and up.
Bottom fishing is difficult. We only know what is good value for us. What works for us? What fits into our ultimate financial plan? Our plan may not be aligned with yours. You need to know where you are in your financial stage.
Present drawdown
We just want to update the present drawdown in our portfolio. There is no shame in discussing temporary losses. In most blogs, they like to show gains and all the good stuff. We like to share all as this is like a record for our future generation to see. Maybe they will curse and swear about how I screwed up what could be their generational funds. Sorry guys, this is your dad's (or grandfather's or great-grandfather's) money, go and make your own.
16th October 2022 JC Fund's paper loss -S$487,575.
We believe that things are looking very attractive for long-term FIRE investors. Don't you get excited when there are sales? It is like buying Birkin for SGD 6,250 to SGD 12,000 range. If we don't get to sell our house, we will focus all the funds on buying more equity assets. We are very confident that our dividend can exceed our expenses in 2 years time if the market continues to remain rangebound or goes even cheaper than the present.