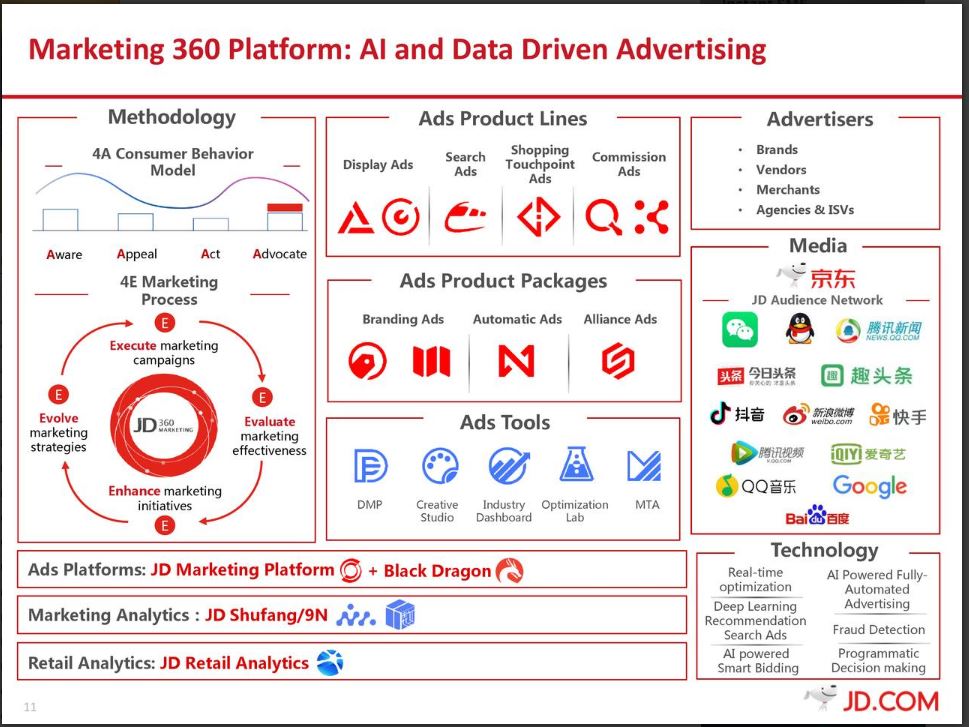 We used to write a lot on JD.com as you can read them here. JD.com used to be one of our best position. We held it throughout the ordeal when Mr Liu was investigated for his alleged offense case. If you look back at the stock price, it was at the lowest USD 19/share when the event took place. We stand firm on our position but it was a stupid decision to sell your winner when the stock price recovers and bounces up fast. We sold at an average of USD 55/share and buy back at an average of HKD 300 per share. We use options to sell Puts and sell Calls to reduce the average price to HKD 289 per share.
JD.com is now known as a leading supply chain-based technology and service provider.
Net revenues for the third quarter of 2021 were RMB 218.7 billion, an increase of 25.5% from the third quarter of 2020. Net service revenues for the third quarter of 2021 were RMB 32.7 billion, an increase of 43.3% from the third quarter of 2020.
Environment, Social and Governance
This is becoming the big thing for companies, they need to be making a profit, doing no harm to the environment, and contributing back to society. JD.com is the blue-eyed boy to the CCP in the e-commerce context, they follow the direction of the government and play their due diligence in common prosperity.
Jingxi, a platform for everyday shopping under JD.com donated 100,000 prevention supply kits which include facemasks and hand sanitizers to local residents in Nanjing in response to the COVID-19 outbreak. This is issued through the Jingxi platform. JD.com is always helping out whenever there are natural disasters or unfortunate events. This helps to build a lot of goodwill with the people.
JD.com is promoting the development of local brands in rural areas to support the agricultural industry. In Jiangsu province, Suqian King Crabs increased the transaction volume was promoted through JD.com. Volume for agricultural transactions increased by 200%. JD.com is investing in logistics infrastructure in production regions and built an ecosystem to integrate with JD.com's sales channels. This is to achieve a win-win for the farmers to bring them directly to the consumers and improve their sales and brands.
JD Retail
In September, JD.com opened its JD MALL which is a store in Xi'an with more than 150 brands in categories for home, furniture, kids, healthcare, and auto accessories. Sephora, a beauty retailer by LVMH joined JD.com's omnichannel service network. Products bought through the Sephora store on JD.com can be delivered to consumers' doorsteps within one hour from nearby Sephora offline stores. This is fast and convenient for the shoppers, they can buy things from the comfort of his or her home.
JD.com and Dada Group formed a strategic alliance with ASUS to launch more than 150 ASUS stores on JD Daojia (JDDJ) and "Shop Now" which is the new on-demand consumer retail section. This is to improve the offline shopping experience and further extend the "one-hour delivery" service to all ASUS offline stores in China.
JD Health
JD Health and Allianz JD (JV with Allianz) to launch a comprehensive online clinical insurance service for healthcare, medicine, and insurance. This is now a complete platform that provides online health consultation, prescriptions, insurance claims, and door-to-door delivery of medicine. The ecosystem is interconnected and now fully integrated between upstream and downstream to improve the user experience.
JD Logistics
JD Logistics started an air cargo route between East China and London. The route will deliver products from China's major manufacturing regions with same-day port-to-port delivery and product arrival within one week. JD Logistics forms a strategic partnership with Volvo Cars. JD Logistics operates approximately 1,300 warehouses over 23 million square meters.
Cash Flow and Working Capital

September 2021, the company's cash and cash equivalent totaled RMB 196.2 billion compared to December 2020 RMB 151.1 billion. JD.com's net cash of RMB 29.8 billion was used in investing activities for capital expenditures. If you look at the Capital Expenditures for development properties, keeping at the same level for both years at around RMB 1.1 billion, the Free Cash Flow should be in the range RMB 8-9 billion for September 2021. JD.com is reinvesting back to grow its business.
Segment Operating Results
JD Retail net revenue increased by 23% from RMB 161 billion in September 2020 to RMB 198 billion in September 2021. JD Logistics net revenue increased by 43% from RMB 17.96 billion in September 2020 to RMB 25.74 billion in September 2021. New businesses increased by 33% from RMB 4.3 billion in September 2020 to RMB 5.732 billion in September 2021.
We are continuing to monitor the marketing fees for JD.com and try to measure the ROI on marketing. JD.com can be more profitable but they choose to spend on marketing, research, and development costs.
Conclusion
JD.com is holding firm on its fort and growing steadily. We like what JD.com is performing and we will look at its other competitors such as PDD and Alibaba and how are they performing this quarter.