Workers in Singapore are facing greater job insecurity because of economic restructuring to move into the high technology sector. Those in the 40s and 50s are facing the greatest impact.
Those middle-aged Singaporeans who lost their jobs will find it very difficult to find another job. They will try to take lower pay but companies believe they would leave for greener pastures further down the road when there is a better offer.
Refer to the image below, the middle-aged group will find it toughest as they have the largest vulnerable gap, this line is what we called life responsibility line in Financial Planning. The middle age group's commitment is the highest due to raising young family, paying for multiple houses or condos, driving a family car, aging parents to support, paying for insurances and bills, leaving them with very little disposable income for saving and investment.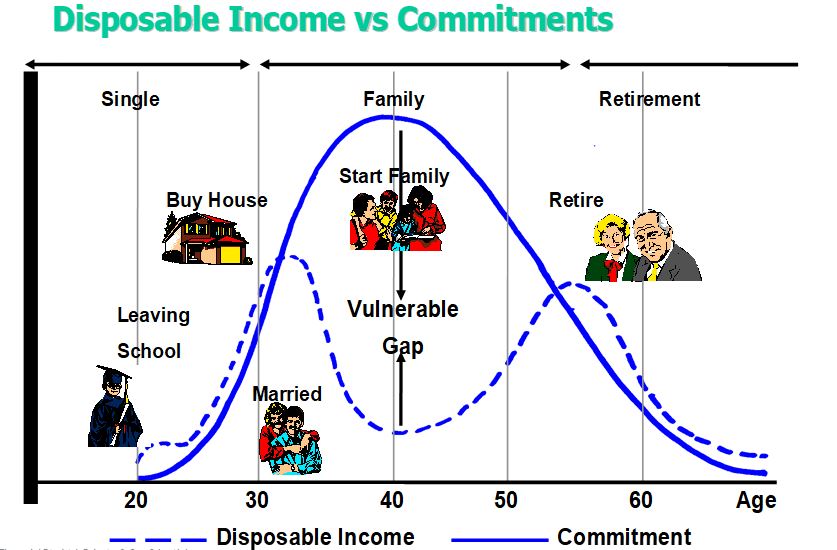 In the past, those between the 40-50s should be at the prime of their career but they are displaced because their skill sets are no longer relevant in a knowledge-based economy. Employers will feel that they are too expensive to hire, they do not learn and have a fixed mindset. The employees may not have changed their career before or upskill earlier and they found themselves in a challenging situation. They are competing with younger workers and foreign talents. Once they are retrenched, it is even harder to find new employment.
The rise of automation and computer skills render many skills redundant. It is important to reskill and retrain.
Personal Thoughts
Since Secondary School days, I started journal writing, back then I would write about the girls I like. Then my journals evolved into what I need to do for my future. Then in high school or army days, I remember I kept an article about a middle-aged man wearing my high school shorts, he used to make $8,000 per month and was made redundant. Thereafter, he was not able to secure another job, he collected cardboards and cans to sell to put food on the table. I believe that was the Asia Financial Crisis. This struck something deep in me. I wanted to make money and become wealthy. I was teaching tuition during my army days while working on a network marketing business. I told my Prudential agent friend during our university days at every single coffee session that I want to start a small business that creates S$5k/month income for my family. I want to be independent and not depending on others to determine my livelihood.
If I dig deeper, there is a sense of insecurity. I was not blessed with a wealthy family. My father was drawing S$700 per month when we were born. His last drawn pay was S$3,200 per month before retiring after working 40 years in the same company. I am not looking down on my parents, they are wonderful savers, they save all their money to provide for us. They mean the world to me. I inherit the stingy genes from my mother. If I make $1, I want to save $1.2 if that's possible. I feel that money is not enough from my personal insecurity and I want to earn and save as much as possible.
To my children – when you start to work, you need to be reminded that maybe during your time, the 30 – 40 years old will be the age group that will already be considered old and irrelevant. Automation will cause a lot of work to be redundant. You either work for robots or you work with robots. The strongest asset is your network. If you can connect them, find a business opportunity to value add others, you will continue to grow your financial portfolio. Never rely on a single source of income – your work income. You need to create multiple sources of income or multiple businesses.