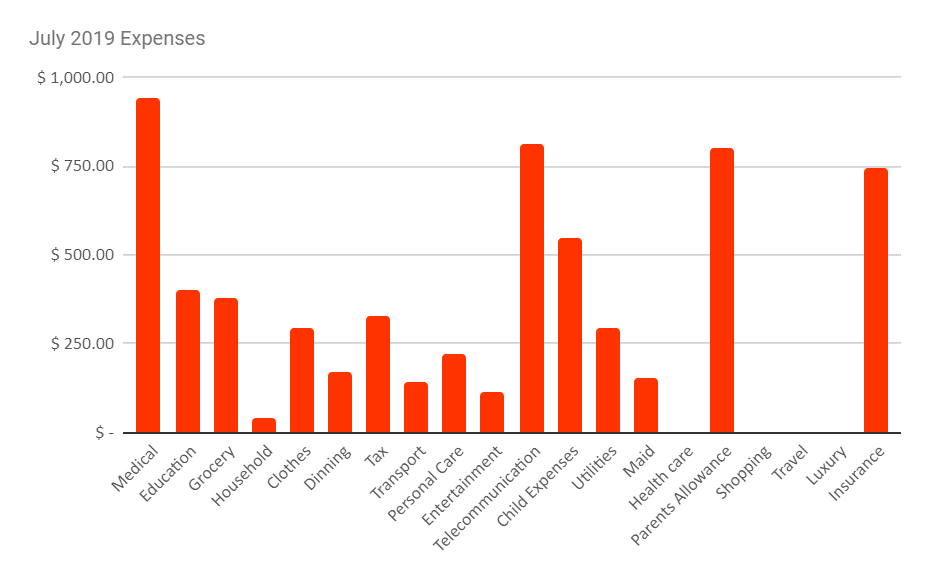 Meal – $570.44
Medical – $940.45
Education – $401.55
Grocery – $380.06
Household – $39.00
Clothes – $ 296.10
Dinning – $169.15
Tax – $327.01
Transport – $141.48
Personal Care – $220.40
Entertainment – $116.86
Telecommunication – $810.64
Child Expenses – $549.70
Utilities – $296.50
Maid – $152.00
Parents Allowance – $800.00
Insurance – $746.07
Healthcare – NIL
Shopping – NIL
Travel – NIL
Luxury – NIL
This month total is S$6597.41 with two one-off expenses. We conducted our annual health check which contributed to the Medical Expenses. For telecommunication, we bought an iphone XR 64GB with 2 years plan which bumps up the expenses. The phone is for my wife while I continue to use iphone 5S. I changed from mine which is iphone 5S 16GB to her old phone iphone 5S 64GB. I don't need a bigger and newer phone as long as the battery can survive, serve business purpose means it is good enough for me. I can save on myself so that my family can have better stuff.

I will assume our average household expenses to be around S$6,000. We have deliberately reduced our date night expenses and save money to tide through a possible recession. In August, the Maid expenses will increase as my helper will clear her loan then.