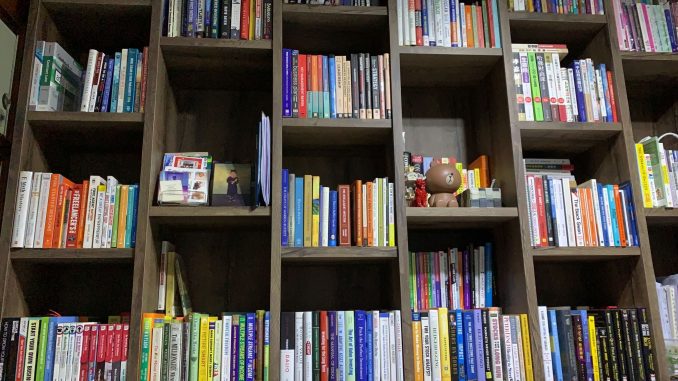 When we were young, days pass very slowly. When we reach a certain age, years pass like days. I have not seen a high school friend for a few years and we caught up over breakfast.
He shared with me his current strategy to achieve his retirement goal. He has 2 annuity plans which will supplement his CPF Life to provide a base income. Refer to the below image which I use estimation for the CPF Life Escalating Plan for a starting payout of SGD 1,500 per month and a fixed annuity income of SGD 2,500 per month. There is a total income of SGD 4,000 per month at the age of 65 years old and a total income of SGD 5,441 per month at 99 years old. I use CPF Life Escalating Plan for illustration because it helps to battle inflation as his annuity income is fixed. I do not know the exact annuity income and his CPF level when he reaches 55 years old. I am just confident that he will do very well towards retirement.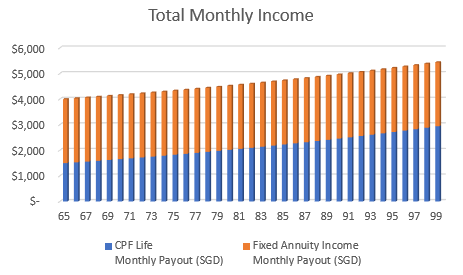 In the past during my financial advisory days, I will advocate different engines for retirement planning.
Dividend Income
Annuity Income
CPF Life Income => another type of annuity
Bond Interest
Bank Interest Rate => old folks' preferred mechanism
Yes, annuity income and CPF Life are my favorites to create the financial base. Thereafter, it will be good to introduce dividend income. I did not like fixed income yield then. As I grow older, I appreciate the rationale. When you reach your retirement goal, why take on more unnecessary risks? It is preferred to rebalance some bonds to reduce your risk exposure. Bonds do have their own risk. Speak about high yield bonds, aka junk bonds.
If you just tap into your CPF Life and Annuity Income for your basic living, your main retirement fund (such as cash, equities, and bonds) will never be depleted. Your capital will be intact perpetually. You can leave a legacy (monetary-wise) for your loved ones. If you aim to pass on close to zero, you can add more experiences to your bucket list. Alternatively, you can set aside a sum for your loved ones, and aim to spend the rest of your money. It's yours anyway.
Back to my friend, he decides to drop stock picking and buy S&P 500 (SPY). Stock picking is hard. Very hard for us employees. We do not have time to do research to compete with the professionals. They have the resources, the firsthand information from management, and the team manhours to outsmart you. The key advantage retail investors have is a very long time frame for investing. Passive investment requires discipline and unfaltering faith.
I tried stock picking but I don't have the alpha. Overall, the portfolio is still in the red, down close to 8%. I realize you don't make money in the first few years, it should get better over time.
Another struggle we have in careers is whether we want to spend more time at work. Do we have the ambition to move up the career ladder? He will be contented to retire at a director level. My ambition is smaller, I want to retire at a manager level. I just want to spend more time reading and spend time with friends and family. The higher you climb, the more time you spend strategizing, communicating, influencing, and coaching others.
The next struggle is property. Most of my peers are inspired to stay in condominiums and landed properties. I only have a few friends who shared that they are very happy with their HDBs. Recently, I heard from a friend who bought a freehold condominium near Bouna Vista MRT for SGD 3 million. If we are to commit to a house of this quantum, it means both my wife and myself need to remain in employment till 65 years old. Are we born to be slaves to our house?
I just finish this book The Suitcase Entrepreneur. Actually what we need in life is very little. I used to be a frequent traveler for work, I can pack all I need in a suitcase. Everything like books can be stored electronically in cloud storage. I have the entire library on the move. I only need a laptop, a few clothes, good shoes, money, and a credit card. Let's stop accumulating stuff and live a minimalist life. I can do that with most things but I suck at it with my books. With lesser stuff, we can be more location independent, more mobile, and can travel more.
Lastly, we discuss income levels for different occupations. I have come across young lawyers' income. Their income grows very fast but come at the expense of long working hours. Everyone wants to become a software engineer and data scientist now. Due to demand, the salary is very high and poaching of staff will drive up the salary by 20 – 30%. My advice to the new generation is to find out what you enjoy doing and develop mastery. Do not join an industry just because it pays well. You will spend the rest of your time trying to buy your freedom out of it. Sometimes, you can grow to like what you are doing while it pays you well.