Business Overview 
Interactive Brokers Group and LLC (hereby known as IB) are rated investment grade by Standard & Poor's, it has more than 40 years of history as a broker dealer with equity capital of more than $6 billion. IB utilizes technology to provide liquidity, compete on price, speed, size and diversity of products and advanced trading tools.
Business Model
IB sold off its market making business which creates revenue through bid-ask spread difference. Its main focus is on the electronic brokerage business segment which serves hedge funds, mutual funds, financial advisers, proprietary trading, introducing brokers and individual investors, covering products on stocks, forex, options, bonds, mutual funds and structured products. IB will make a brokerage commission which translates into profit. IB also make a spread between cash balance, borrow of stocks and through securities, margin loans and stock loans.
Financial 
IB's revenue has been increasing throughout the years since 2009 as it grows along as the market recovers.
IB's Earnings Per Share has been stable and increases in 2016 and 2017.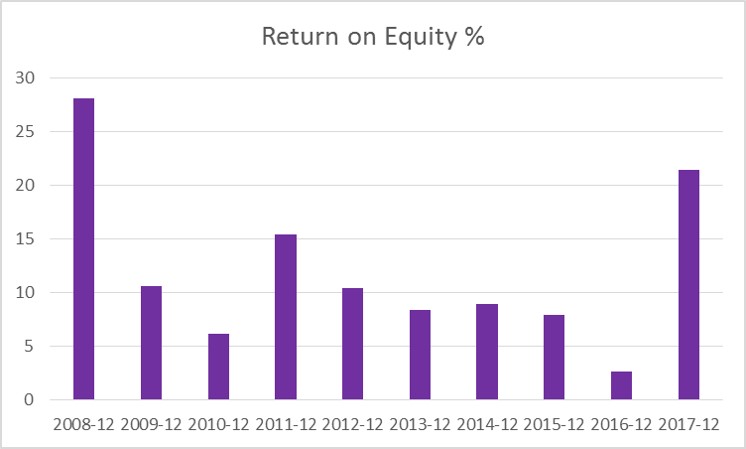 IB's Return on Equity (ROE) has achieved an average of 10% throughout the years.
IB has achieved no long term debt since 2012 to 2017.
Moats
IB has economies of scale due to the large pool of customers. IB can provide lower cost of trading due its massive size of customers base and lower cost will attract new customers.
IB has high barrier of entry due to high capital base requirement and market regulation across more than 26 countries and in 22 currencies. In order to comply with international market regulation is a highly tedious and challenging task, requires a strong and effective system in place to duplicate the success.
Conclusion
The share price of IB is decreasing but it is still above our estimated valuation. We are keeping this company in our watch list and will monitor its business.