Introduction and Business Model of USANA
Usana is the brain child of Dr. Myron Wentz who wants a world free of disease. He believes with proper nutrition, it can help to solve a lot of health issues.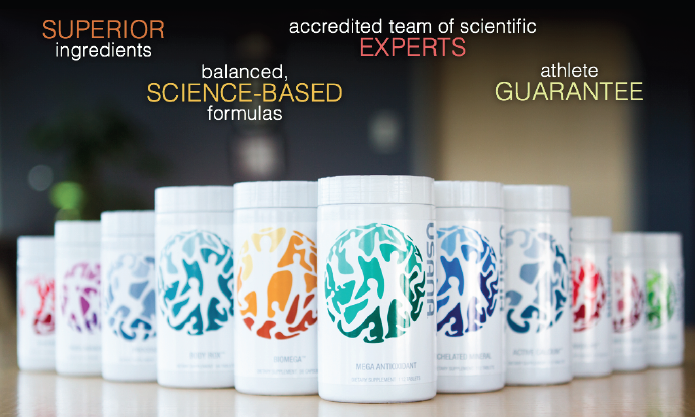 They have products specialized in:
Nutrition: This includes vitamins, minerals and antioxidant.
Diet and Energy: This includes protein shakes, meal replacement and energy drinks.
Personal Care: Skin care products and beauty products
Usana is distributing its products through multi-level marketing business model. The distributor makes money when there is more consumption of the products by have more people in the distributor's business.
The differentiation lies in the science. Usana has a team of in-house experts and scientists dedicated to conduct the latest scientific finding and clinical studies into products. Usana partners with research institutions and nutritional scientists to constantly improve their products.
Usana manufactures 90 percent of products in own manufacturing facilities so that the entire process from raw ingredient to finished supplement is been controlled.  Additionally, in several countries around the world, supplements are highly regulated in the United States. In Australia, the Therapeutic Goods Administration (TGA) mandates that manufacturers follow a set of GMP identical to GMP in United States. USANA is regularly inspected and audited by TGA to ensure that their GMP standards are met.
Usana sponsors 2000+ world class athletes to keep them in top shape. They know the safety and quality of each Usana product is guaranteed.
Financials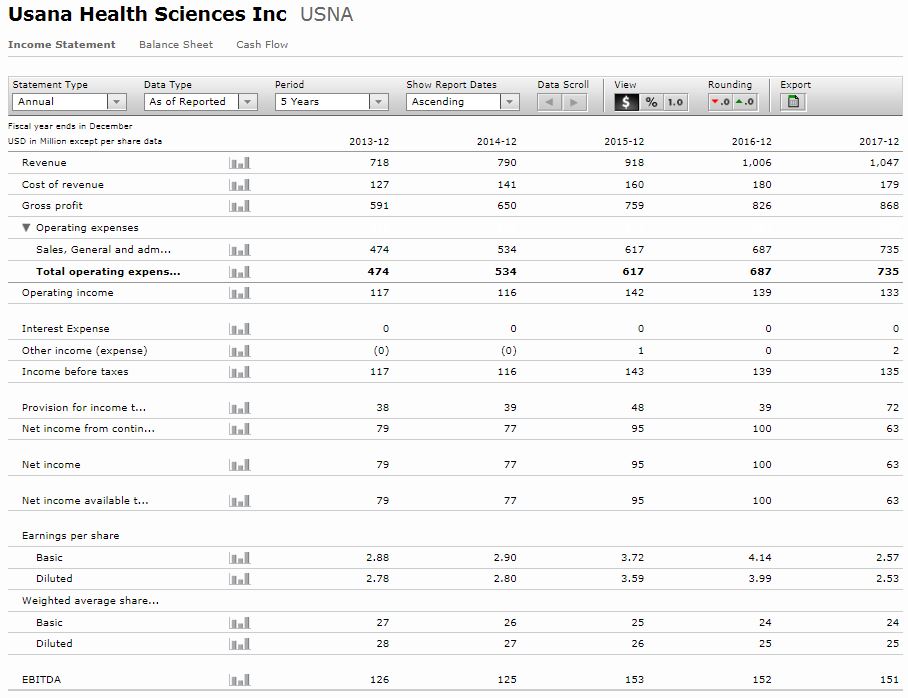 The revenue is increasing over the years from 2013 to 2017.  Interest expense has been maintained at 0 throughout the years. Earnings per share for diluted shares are increasing to 3.99 till 2016 but dipped to 2.53 in 2017.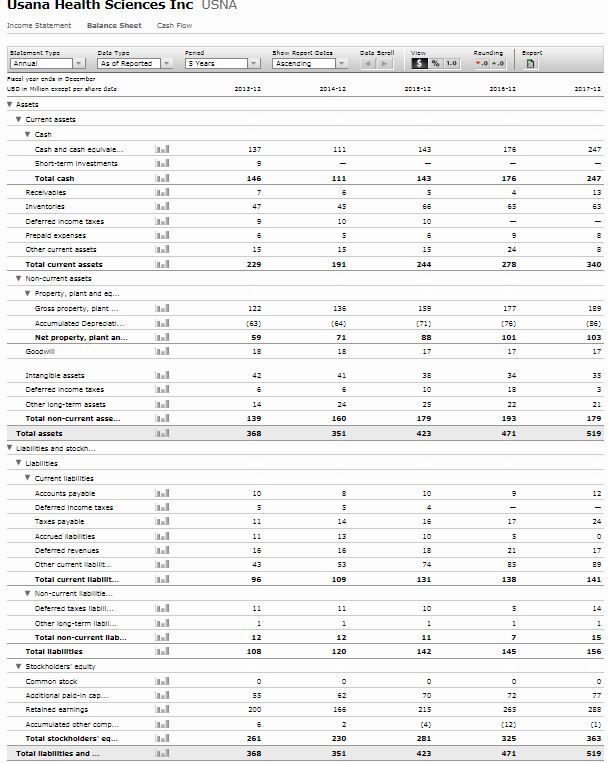 The total cash is accumulating and almost double in 2017. Total Current Assets of 340 million are more than total liabilities of 156 m. The retained earnings are increasing over the years from 200 m in 2013 to 288 m in 2017.
Valuations
As of today the share price is $115 which is about double of 2017 $60 share price. Usana's EV/EBITA is currently 15.54, Herbalife's EV/EBITA is 12.44, Shaklee's EV/EBITA is 20.26, Tupperware's EV/EBITA is 12.52, Avon's EV/EBITA is at 5.89, Nuskin's EV/EBITA is 12.64. Usana is not the lowest and considered slightly on the high side.
Operating Performance
Return on Equity has a history of above of 30% for most of the years since 2010 till 2016. In 2017, ROE dropped to 18.17% which is still decent. Likewise, ROIC is above 30% till 2016 and dropped to 17.79% in 2017. Inventory turnover is excellent at lesser than 5. Free Cash Flow/Net Income is >1 for most of the years from 2010 till 2017.
Conclusion
I am taking Usana products and I had a chance to buy the company in 2017 when share price was at $60. The company has a lot of passionate distributors and I have been to their company events which are very professionally run. Overall it is a great company with good products and powerful business model.
I will wait for an opportunity for the share price to correct and keep this company in my watch list.