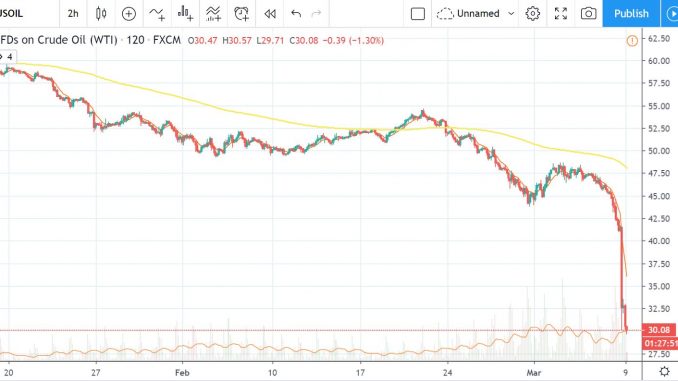 Today is 8th March 2020. I want to record this so that my children or other generations know that I survive this Oil Black Monday. In hindsight, it is a double whammy. I will explain later on. Saudi took on an oil war against Russia and will raise its production to drive down the oil price over the last weekend. This morning, Brent and various oil index started the market with a 30% drop marking one of the worst one day drop.
Over the weekend, I was worried and I went deeper into the financial statements of MPLX. I did not like the debt level, I was concerned with the high CAPEX, high debt issued to finance dividend and acquisition. Why did I buy this company in the first place? You can read in this post here that I wanted to rectify this trade.
When the market opened at 9.30 pm in Singapore time, I was trying to decide whether to switch out from MPLX to RDS.B with the key consideration whether both counters drop were the same. I sold MPLX at 25.8% drop from the previous price and bought RDS.B at a 14% drop.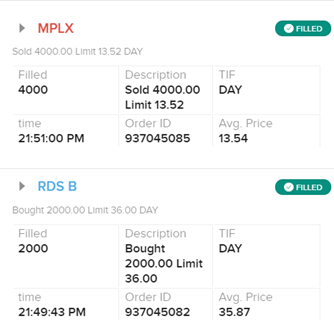 I thought I was clever. Then several minutes later, I am like WTF! This move cost me 11% at the time of execution which is USD 11,000. If based on below 2 images, I could have not lose 11% and gain 2% instead.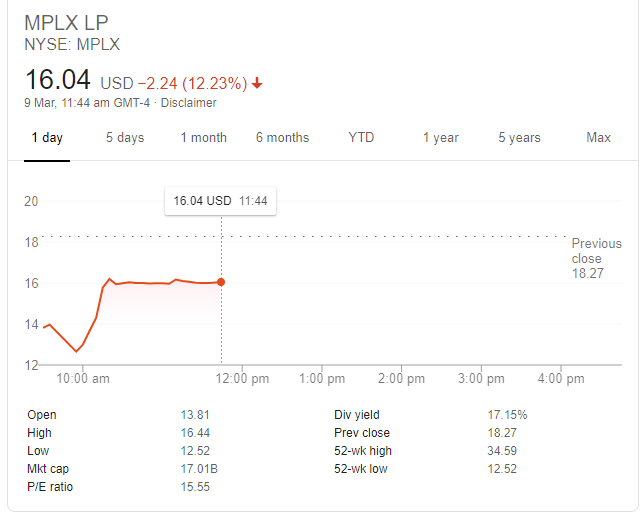 My wife sat me down and asked me to write down the key lesson learnt for this USD 11,000 trade loss. Goodbye to your 2nd hand Hermes Togo Birkin bag which I could buy at SGD 18,000 with some cash top-up. Sometimes, no action is better than taking action. The key lesson is I should not do options on cyclical companies. A black swan event during option trade will wipe out all the gain. I should just wait for the right company at the right price and make my one swing for a home run. I could have achieved a much better result if I just use the USD 155,000 to deploy at RDS.B based on USD 36/share.
I am pissed with myself.