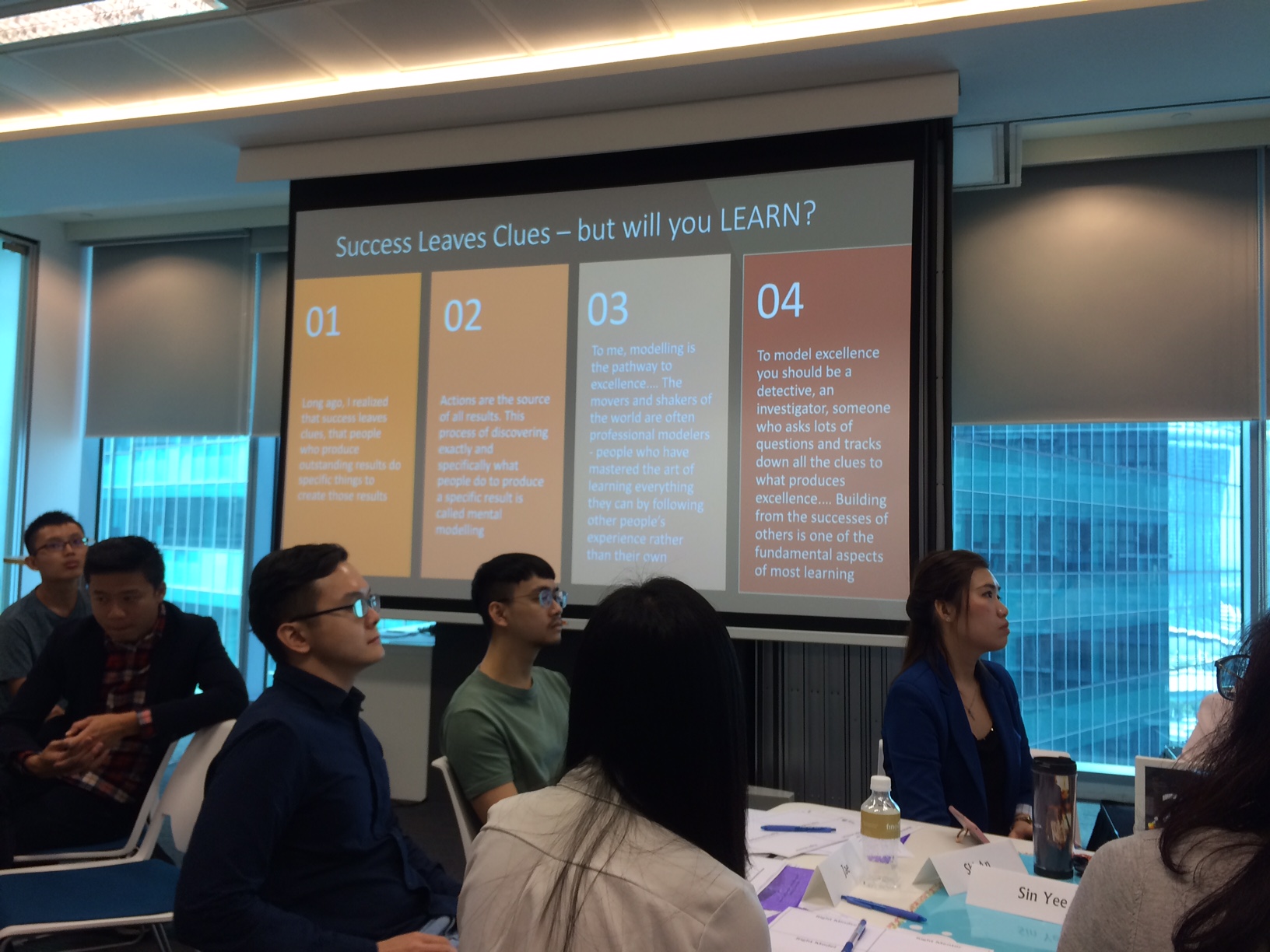 This is an unbiased review after attending the workshop "What do I really want in my career and life" and I am not paid for writing this article. This post is meant for me to document what I have learnt and what are the AHA moments. How I chanced upon this workshop is through a recent discussion with my financial consultant Yvonne Yo from Finexis. She tried to get the ticket for the first time (I think it was in July) but it was fully sold within hours and she got the ticket for 18th August.
The key reason why Finexis is doing career workshop for their clients is meant to help them to increase their earning, help them to save more money and reinvest a bigger chunk of money into asset to improve their financial well being so that they can pursue what is meaningful in their lives.
The rest of the post is a summary of my personal entry on things I encountered and learnt during the workshop.
What do you look for in a career? (List 4 of them)
1. Money
2. Career Recognition
3. Coaching and training of people
4. Growing and learning
Choose the most important from above and why is it important to you? 
I chose Money.
I want to achieve financial freedom within 5 years time. I want to have more opportunities to travel with family. Through financial freedom, I can cater for future family expenses such as for my ageing parents and parents-in-law, children's expenses and retirement expenses. I have a desire to live anywhere in the world. I want to be involved in my children's milestones.
What does it look like when you have it?
I can let my wife become a home maker and look after children. She can be with them during their most critical years. Upon achieving financial freedom, I can choose to work at my own pace and maybe I can choose to work as a financial consultant or a stock broker. I can travel more often with my family back to HK to visit my in-laws. I can bring my family to travel to other countries. I can coach young people.
How does it make you feel?
I feel fulfilled, happy and excited.
Who are the people affected?
My family and young adults (teenagers and young working adults) who I can coach.
Next exercise is to extend this in a timeline by stating "My Most Important Dream", listing one success milestone and one pitfall.
Every mistake is a revenue.
My Most Important Dream
I wrote "Achieve Financial Freedom for the Family". I have another dream. I want to create a school for underprivileged in developing countries, create jobs for them and change their lives. This dream is a lot bigger than my selfish personal dream.
My success milestone is in 2017, I started and launch my first ecommerce business which I failed but at least I tried my best. We have 50-100 customers from United States but barely break even.
My pitfall is in 2018, I was not paid 2 of my 3 months notice period and made a lot of mistakes with my investment. I felt that I still can be useful but not given opportunity to contribute my skills to the society. I was presented with opportunities to join Phillip capital, Lim & Tan and Finexis but I took the simplest route which is to join back to my previous industry in the subsea oil and gas. Doing the same thing over and over again and expect a different result is insanity.
40 years old – buy black + gold ROLEX GMT (sold my 1 x black and 1 x green sub previously)
41 years old – change my career
41 years old – Let my wife become a home maker
41 years old – travel to Greece and Turkey
50 years old – travel to Israel
When we can stay a few years in HK (when the children are grown up)
Your WHY/PURPOSE  
The next idea is from a book which I recently read by Simon Sinek's "Start with your WHY".
You can start from "What" -> "How"-> "Why" but it is more important to start from "Why" -> "How' -> "What".
I tried to start from traditional method by defining my "What" (job/title/role) then I proceed to "How" (how do you stand out from competitor) and finally "Why" (why do you do what you do). The result is trying to push an answer to fit the bill.
This time I tried from my "Why". My biggest "Why" – I want to spend more time with my family. "How" – I want to earn more and invest more so that I can have more free cashflow from my assets. "What" – I will take a job which provides an income to meet my 5 years plan. Then one of my AHA moments kick in. Actually I can take a job which creates the highest income in the shortest time. It needs not be what I am presently doing, I am traveling extensively on a weekly basis but my salary is fixed irregardless to the amount of deals I clinch. This does not make sense at all. Effort is not equivalent to income. It will not translate to bonus because all marine and subsea companies are trying to conserve cash. I am in a sales job but not compensated accordingly. I should be in a sales job which pegs my effort to income. I should do something based on pure commission. Alternatively I should be paid 100% based on commission for my existing job. Another AHA moment is I am been leveraged which I will touch on later.
Leverage
Stage one – Time Leverage
When we are young and start our first job, we have nothing but plenty of time. So we leverage on time.
Stage two – Capital Leverage
Use your capital to buy asset so that you leverage on compounding effect of time
Stage three – Human Leverage
Do you know why business owner/boss/CEO is paid the highest? They hire people to leverage on their time to create wealth for himself.
For example, my friend who runs an internet marketing and branding business, he hires 3 marketing executives paying them $3k each. He gains 3 x 8 hrs/day x 5/days per week = 120 hours per week to create wealth for him. This is leverage on other people's time.
Another AHA moment – as an employee, the longer (11 years now) I am working, the more effort I need to put in but my income is decreasing. There is another alternative which is use a few years to build up a business and at first your income is very low but eventually it will increase exponentially as the business grows (if it survives).
A Solid Career
Uses maximum effort to create income to buy time.
Invest in assets at young age
Create opportunity for passive income
I agreed with them and have taken a longer route (through working for others) to achieve them.
Success Framework
I will not elaborate further on the below 4 pointers as Finexis has a detail framework for this. They have grown to be the largest firm with 600 financial consultants. They must be doing something right. They want their customers to Earn More, Save More and Invest More.
Right Mindset
Right Mentor
Right Model
Right Environment
3 Key Choices with largest impact to your life
Career
Mentor/ 5 people you mix with
Spouse
Your first 10 years of your career are the most crucial, the 1st 3 years you should follow a boss who can mentor and groom you. I am way pass that stage but I hope in my 2nd career will meet the right mentor.
Quick Survey – What are you doing during your spare time?
One interesting thing I learn is (another AHA moment) – we tend to spend at least 1 hour a day on Facebook, Instagram or Snapchat trying to find out what people are doing in their lives. Are we spending at least 1 hour reading a book, researching on an industry which we are interested to apply a job in, send out resumes, research on Linkedin, read articles of the industry and network with people of the industry. Just ask yourself, are you spending time to improve your career and life? Do not bitch or complain that you are not doing as well as you should. You can only blame yourself because you are not taking massive actions to change your life.
Conclusion
I have read or learn most of the things from the workshop previously but I am still stuck in the hamster treadmill. I did not take massive actions to change what I am doing. I still want to rely on a pay cheque. This is the key reason why I am not as successful as what I want to be. If I put on a competitive hat, I know some of my peers will eventually surpass me in terms of net worth if I continue to work for someone. I know their wealth is not mine. I won't compare or be insecure about it, the point is doing the same thing all over again and expect a different result is insanity.
I think the workshop is mind blown. I have learnt new things and I have clarity on things.
Warren (the CEO of Finexis) told me to think of what I like to do and start to do what I like to do.