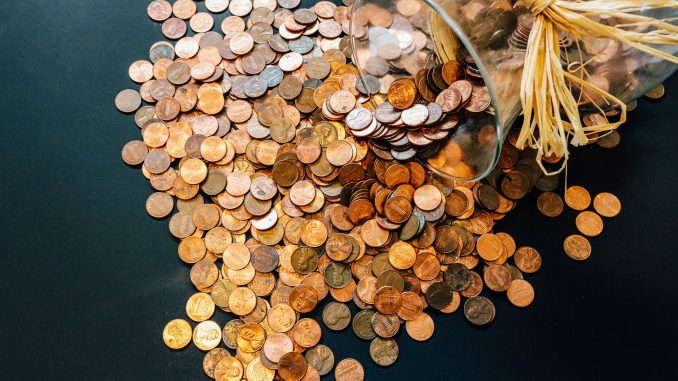 Updated on 26th September 2020
The saving rate is measured by the ratio of Total Income minus Expenses over Total Income.
Saving Rate = (Total Income – All Expenses)/ Total Income x 100
During my financial advisory journey, I usually recommend that everyone saves a minimum 10% saving rate. Assume the income and expense does not change. At a saving rate of 10%, it takes (1 – 0.1)/ 0.1 = 9 years of work to save for 1 year of living expenses. At a saving rate of 25%, it takes (1 – 0.25)/ 0.25 = 3 years of work to save for 1 year of living expenses. At a saving rate of 50%, it takes (1 – 0.5)/ 0.5 = 1 year of work to save for 1 year of living expenses. At a saving rate of 90%, it takes (1 – 0.9)/ 0.9 = 0.11 year of work to save for 1 year of living expenses which means 1 year of work will be equivalent to 9 years of living expenses.
Hence, the saving rate is a very important element to achieve financial independence. In this article, we will only focus on saving rates and will touch on increasing the income which we can discuss in future articles.
My Personal Malaysia Saving Rate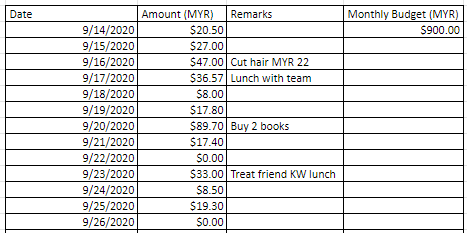 After quarantine completes, I am back in the office. I had captured this week's expenses just on meals and a hair cut at Quick Cut which cost RM 22. I have estimated a daily budget of RM 30 for 3 meals which will work out to be MYR 900 per month. To date, I am still on track for not crossing MYR 450 for half a month's budget. 🙂
I was looking at Airbnb but to date, the identity is not yet verified. I tried to look at Vrbo but the rental cost is not that attractive. I negotiated with Holiday Inn Express and they offered me a very good monthly deal of RM 2,550 which includes breakfast, with 2 laundry and dryer tokens. I went to the hotel to make a payment then I realized that it is used as a quarantined hotel. This turns me off slightly as I just came out from a quarantined hotel. I am negotiating with the present serviced suite hotel which the company I worked for has put me till 3rd October. We are trying to close it at a monthly deal of RM 3,000 without breakfast. (Update) – I manage to remove my passport photo and uploaded a driving license with my photo taken at 18 years old (which is 20 years ago) onto the Airbnb app. I finally got the approval for identity on 22nd September. I book for 119 nights starting on 3rd October 2020 which works out to be around RM 2,300 per month. I felt so happy on 22nd September! 🙂
This will bring my total monthly expenses to be around RM 3,500. This will bring my savings rate to more than 90%. It is unfair to use me as a gauge as I am considered as an expatriate. My point here is to save as much as possible, does not mean high income needs to spend lavishly. In 2019, the mean income in Malaysia was RM 7,901 while the median income was RM 5,873. The Median Monthly Disposable income in 2019 was RM 5,116. For instance, a monthly expense of RM 4,000 will mean a saving rate of 20%. A duo income of university graduates who are both working as managers will command a monthly family income of RM 20,000 as seen in the Glassdoor figure as shown below.
Taxation
You should know your rights for tax income relief to reduce your taxable assessment income. Automatic individual relief is RM 9,000, medical expenses tax relief for parents is RM 5000, education fee for tax relief is RM 7,000. Lifestyle such as the purchase of books, electronic, exercise equipment entitles tax relief up to RM 2,500. Whether you are a Malaysian or a foreigner who resides lesser than 182 days in a year in Malaysia, any income earned will be taxed at a non-resident income tax rate of 28%.
Conclusion
We need to reduce our expenses by seeking tax relief and cutting down on unnecessary expenses. This is the way to increase your saving rate and help you to achieve financial independence (read here on steps to achieve financial freedom) in a shorter duration. This will leave you the option to pursue what you really want to do or spend time with your family and loved ones.