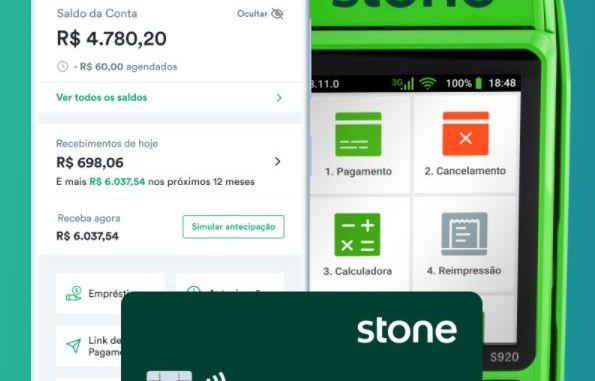 Shares of StoneCo plummeted from USD 33/share to USD 21/share and closed the week at a low USD 19.2/share. This is another 32.4% drop this week after StoneCo released its Q3 results. Why was this not well received by the market?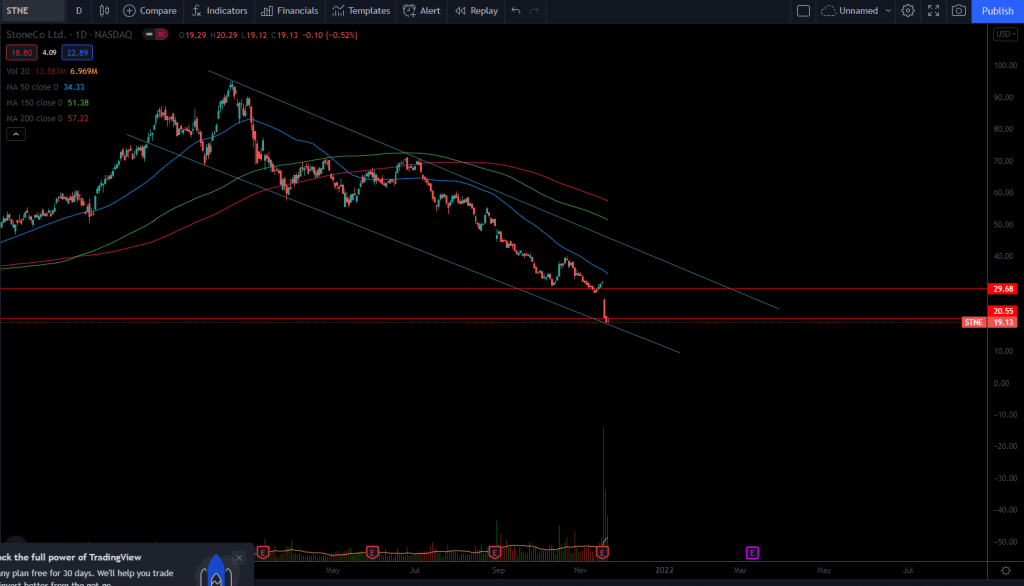 3rd Quarter Result
MSMB TPV fundamentals did not change, SMB TPV grew by 70.3% in 3Q21 and MSMB TPV grew by 81.3% in 3Q21. Micro merchants TPV grew by 22.8x.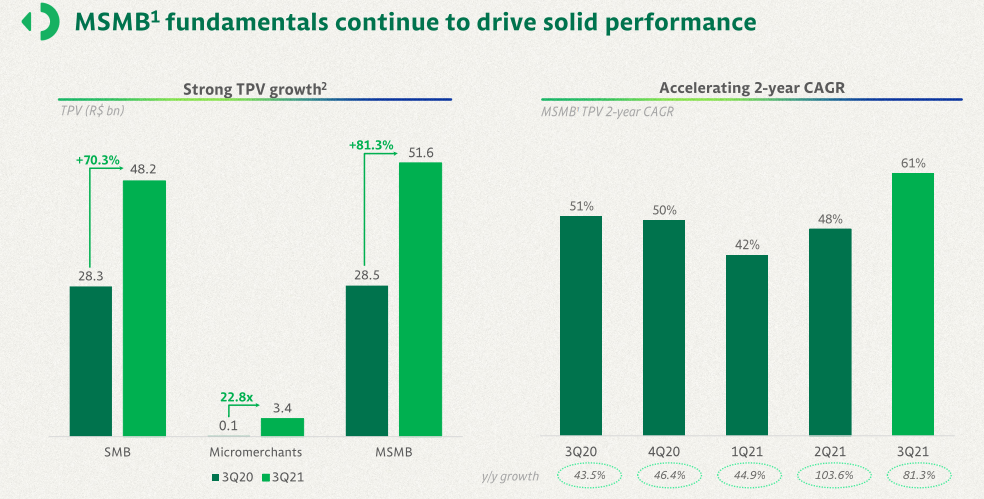 MSMB is composed by TON in Micromerchants and Stone and Pagar.me in SMBs, excluding clients from Linx. From 1Q2021, reported TPV figures consider all volumes processed and settled by StoneCo. From 1Q2021 onwards, volumes processed by Pagar.me are included. This added R$79 million to MSMB's TPV in the quarter, implying an 81.1% growth for MSMB without these.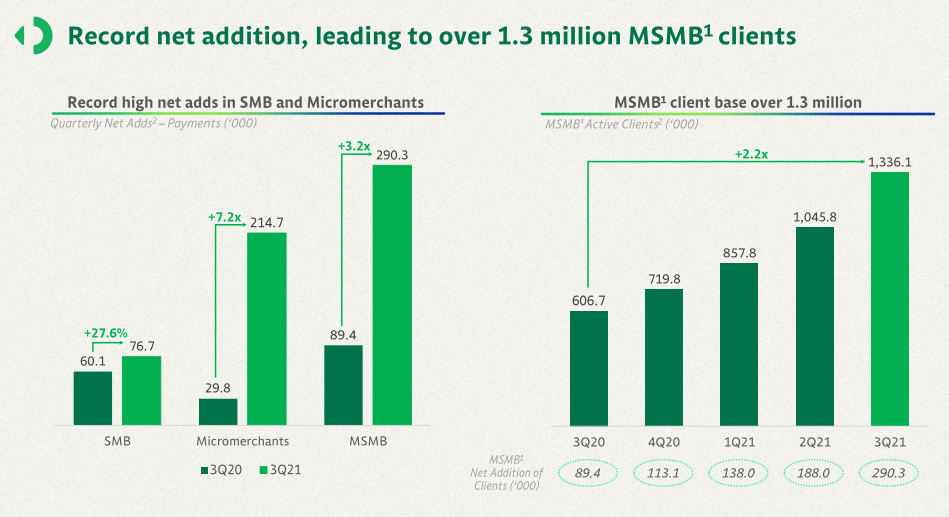 MSMB is composed by TON in Micromerchants and Stone and Pagar.me in SMBs, excluding clients from Linx. "Active Clients" and "Net Adds" refer to merchants that have completed at least one electronic payment transaction within the preceding 90 days for SMB and in the preceding 365 days for Micromerchants, excluding clients from Linx. This shows SMB increased by 27.6% in 3Q21, 7.2x to 214.7k payments for Micromerchants, 3.2x to 290.3k payments for MSMB. MSMB client base increased from 606.7k net addition of clients in 3Q2020 to 1,336.1 k in 3Q21. This is a 2.2x growth.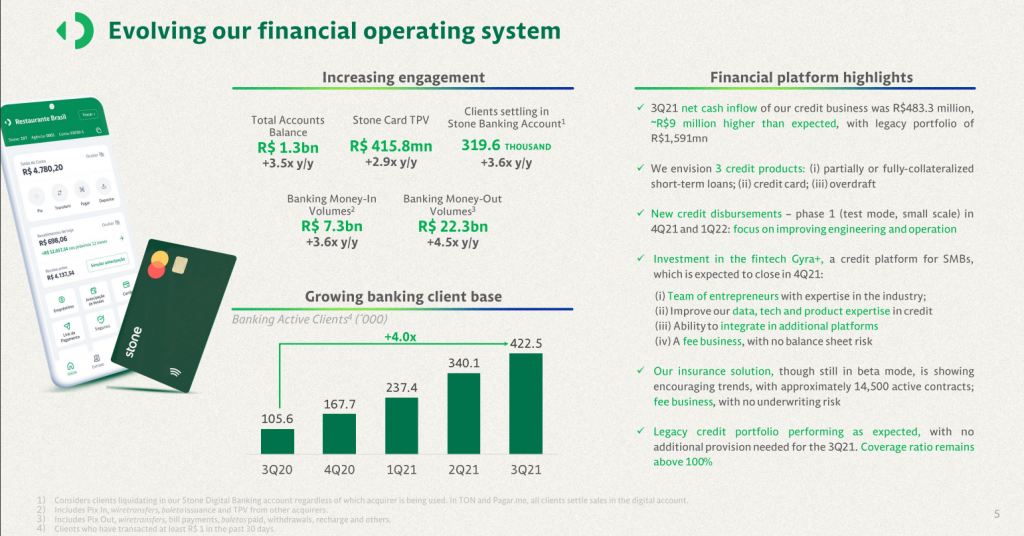 3Q21 net cash inflow of credit business was R$483.3 million, this is R$9 million higher than expected with a legacy portfolio of R$1,591 million. There are new credit disbursements that will be in test mode, target to launch Q4 2022 and Q1 2022 on small scale to test the products.
StoneCo will invest in fintech Gyra+ which is a credit platform for SMBs, this will close in 4Q2021. This will improve data, tech, and product expertise in credit, integrate with platforms, it is a fee-based business with balance sheet risk. Insurance solution is another potential growth solution. Active contracts have increased from 400 to 14500 within 2 quarters. Further to that, the Active Revenue Per Unit Contract increased from R$6.7/month in 1Q21 to R$10.7/month in 3Q21.
The most important is legacy credit portfolio is performing as expected with no additional provision needed for 3Q2021. This is the most important item for us.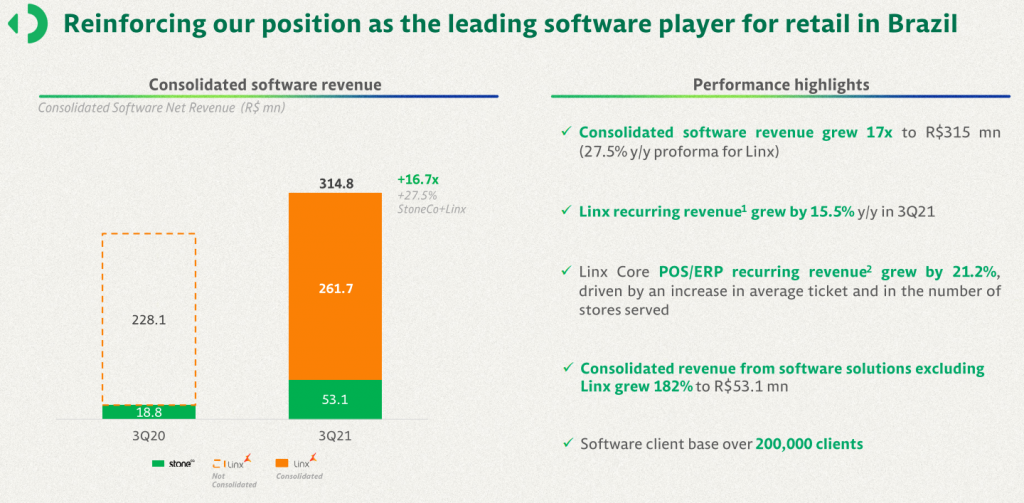 StoneCo aspires to be the leader in software services for the retail industry in Brazil. Just looking at StoneCo's net revenue from software increases from 3Q2020 R$18.8 million to 3Q2021 R$53.1 million, this is 2.82x growth. On Linx revenue, it grew from R$228.1 million in 3Q2020 to R$261.7 million in 3Q2021. This is a 14.7% growth. Linx recurring revenue grew by 15.5% year-on-year in 3Q2021. StoneCo bought Linx for R$6.04 billion.
When we look at Linx' clients, they have approximately R$350 billion in annualized GMV and we monetize only 0.3% of such value. Also, those clients have approximately R$200 billion in annual TPV and mid-single digits penetration with our payment solutions. We see plenty of room to grow organically in current verticals, expand vertical coverage through new investments, further help our clients with integrated financial services offers and with products to help them sell more through multiple channels

Thiago Piau – CEO of StoneCo on the potential of Linx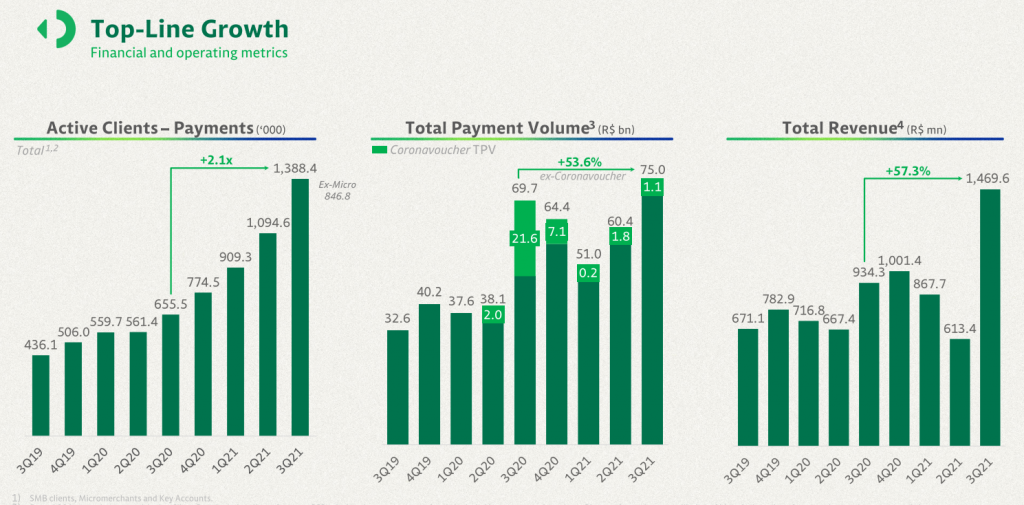 Total Revenue has grown by 57.3% from R$934.3 million in 3Q 2020 to R$1,469 million in 3Q 2021.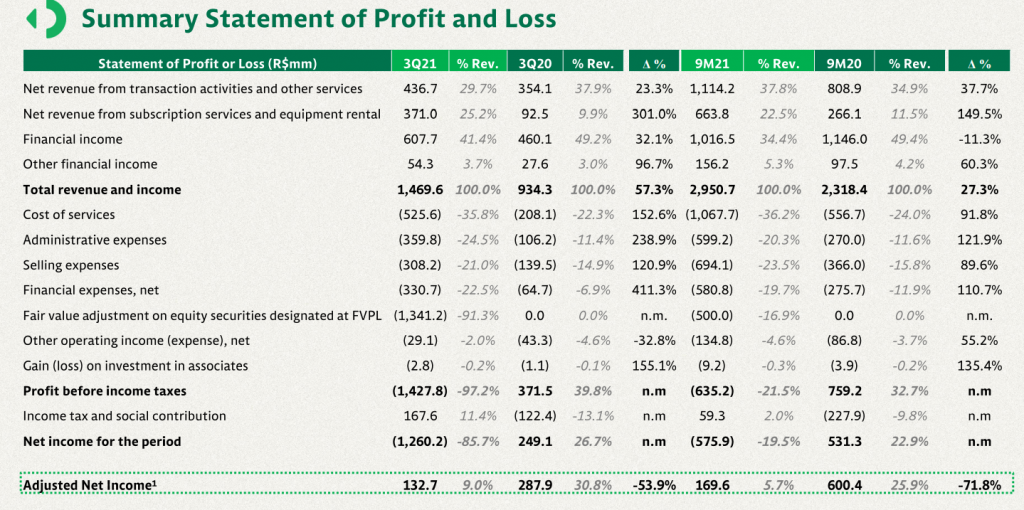 If we don't consider the fair value adjustment on equity securities designated at FVPL, the Profit before Income Taxes should be around -R$84 million.
Conclusion Based on company presentation slides
Overall, the results are very decent and all the bad news has been priced in. Of course, this is not a recommendation to buy or sell the shares as we are purely interested in the business and looking from the point of business analysis only.
Refer to here for a previous post on StoneCo.