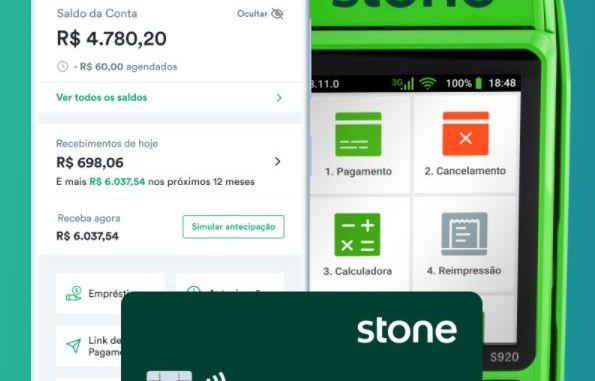 Updated on 26th March 22
StoneCo is having a marvelous day in terms of the share price. It has rallied over 40%. I did not buy it when it dropped to USD 9/share but I bought it on 18th March after the results were announced. The current share price is still close to 86% lower than the peak price which is around USD 95/share.
From the below image, StoneCo is reorganized into Financial Services and Software divisions. 73% of revenue is from the Financial Services segment and 18% of revenue is from the Software segment. The financial services are to provide the best financial operating system for Brazilian merchants. The software segment is to provide the best workflow tool to help them to sell more through POS and ERP solutions, digital and omnichannel solutions.
So let's start by reflecting on 2021. This past year was unsatisfying for Stone. We executed well in some areas, but we certainly made some mistakes. We took an aggressive approach. This is how we built the Company and how we help lead the fintech revolution in Brazil. But I think at the end of the day, we tried to do a lot last year, and we simply did not execute it as well as we would have liked

Thiago Piau
The CEO was honest in providing his feedback where they fail to execute well. The credit offer was scaled up fast but did not manage well. The problem was further magnified by the issues caused by National Registry System. They put a halt on the credit operation.
The credit business was cash-flow positive by R$430 million in 4Q2021. They have R$3.2 billion cash inflow received which is closed to R$3.4 billion which was disbursed since inception. They are recovering their capital for credit business.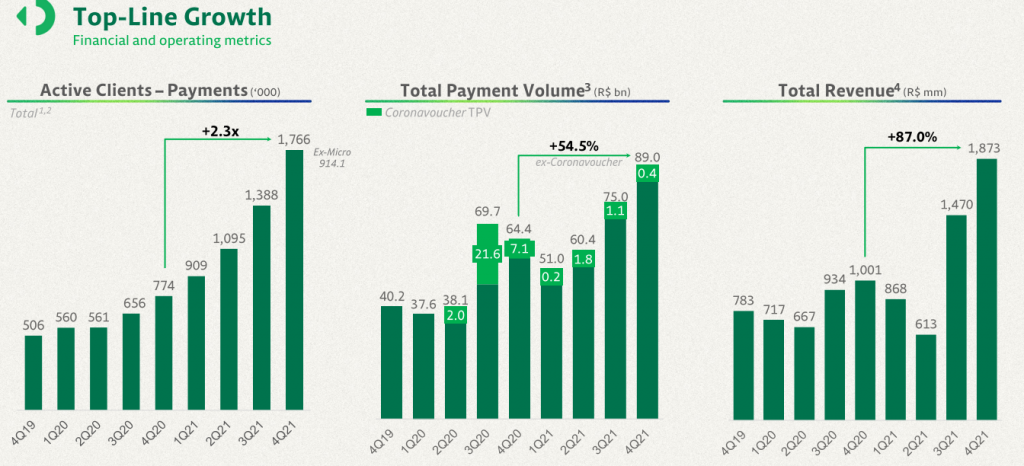 In 4Q21, the active clients have grown more than 2x to 1.766 million compared to 0.774 million in 4Q2020. Total Revenue increased from R$1billion in 4Q2020 to R$1.8 billion in 4Q2021. The business took the opportunity to spend higher than usual CAPEX of R$548 million (which is 10x more than 4Q20), spending on advance purchase of POS terminals. The reason is to derisk growth amid uncertainty with supply chain and microchip shortage and delivery lead time. The free cash flow turn negative to -R$182 million this quarter compared to R$451 million in 4Q2020.
The P/S of StoneCo before the announcement on 17/3/2022 is around 4x. P/S of PagSeguro Digital was around 3.4x. Both are very depressed and valuation looks historically low. This could be a great setup for higher returns in years to come if StoneCo continues to execute well.
There are other risk factors such as inflation, business sentiments, and changes in the law that may adversely impact StoneCo's future earning capability.
Overall, this is a good quarter and we will continue to monitor the business. To recap, we bought another 850 shares of StoneCo, bringing it to a total of 3000 shares at an average share price of US$18.85/share. I was assigned 1 option at USD 35 on 16th March which was supposed to expire in January 2023. Sell PUT seldom happens before the expiry date but it did in this instance.
PIX's concern
There was a paper by central bank economists which show that PIX retail instant payment system is cheaper than card payments for merchants. PIX costs an average of 0.22% of transaction value whereas debit cards cost 1% and credit cards cost 2.2% in Brazil. The release of this report caused StoneCo's stock price to tumble 14.29%, a steep drop of US$2.05 in terms of the share price. After 15 months from its launch, PIX is used by 114 million individuals in Brazil, moving 6.7 trillion reais.
Those are larger clients who are more in line with that segment, much closer to the platform service than the sub-acquiring ones, but more in line with the key accounts take rate. I think that is more than only penetrating payments — and the first steps really providing the payment solution we have from the clients that already used the test gateway within Linx. We are focused on additional services using the banking platform. PIX, I think that it's a great opportunity for Linx.
So the combination of PIX, our bank accounts with the front end of Linx, the checkout of Linx in the stores, I think that that can be a big opportunity for us. So we're focused on creating the projects and integration between the checkouts and the point of sale of Linx with our banking and our financial platform in the right way. So there are good, encouraging results in the beginning, and we expect this to increase. So we will provide more information to you and to investors as we evolve.

Thiago Piau
So regarding PIX, yes, we did see PIX growth significantly within our base in 2021, but mostly substituting wire transfers and cash. So there was cannibalization of debit volumes.

When we look at the PIX heavy users within our base, we estimate debit cannibalization to be less than 5%. So the overall impact to the base is very, very low. These trends, we believe, are very much in line with the market, but we do see PIX growing significantly within our base. And we do see PIX as an important part of our banking strategy because it increases engagement of our banking solution.

We actually do see that our clients that use PIX, they have higher average outstanding deposits. So we see PIX very positively.

Lia Matos
The management is not blind to the rise of PIX. They are growing their software business around PIX to complement it. They did acknowledge PIX can cannibalize its debit business. If you cannot beat it, join it. It does not warrant such a drastic drop in share price. It is another opportunity to accumulate more on share price weakness as I do not see weakness in the business.