In this article, I am trying to solve 2 issues. Firstly, I want to reduce the taxable income for my wife and the second issue is to boost my mother's Central Provident Fund (CPF).
Firstly, for my wife, I will recommend for her to use cash to top up her Special Account to build up another leg of her retirement fund. There are various ways to top up her CPF Special Account (SA). As she is below 55 years old, she can transfer from Ordinary Account (OA) to SA to earn up to 5% p.a. interest. In future, after 55 years old, she can transfer from both OA and SA to Retirement Account (RA) to earn up to 6% p.a. interest. Currently, she is transferring on a monthly basis from OA to SA. We do not have aspiration to buy private house but contended to stay in a HDB.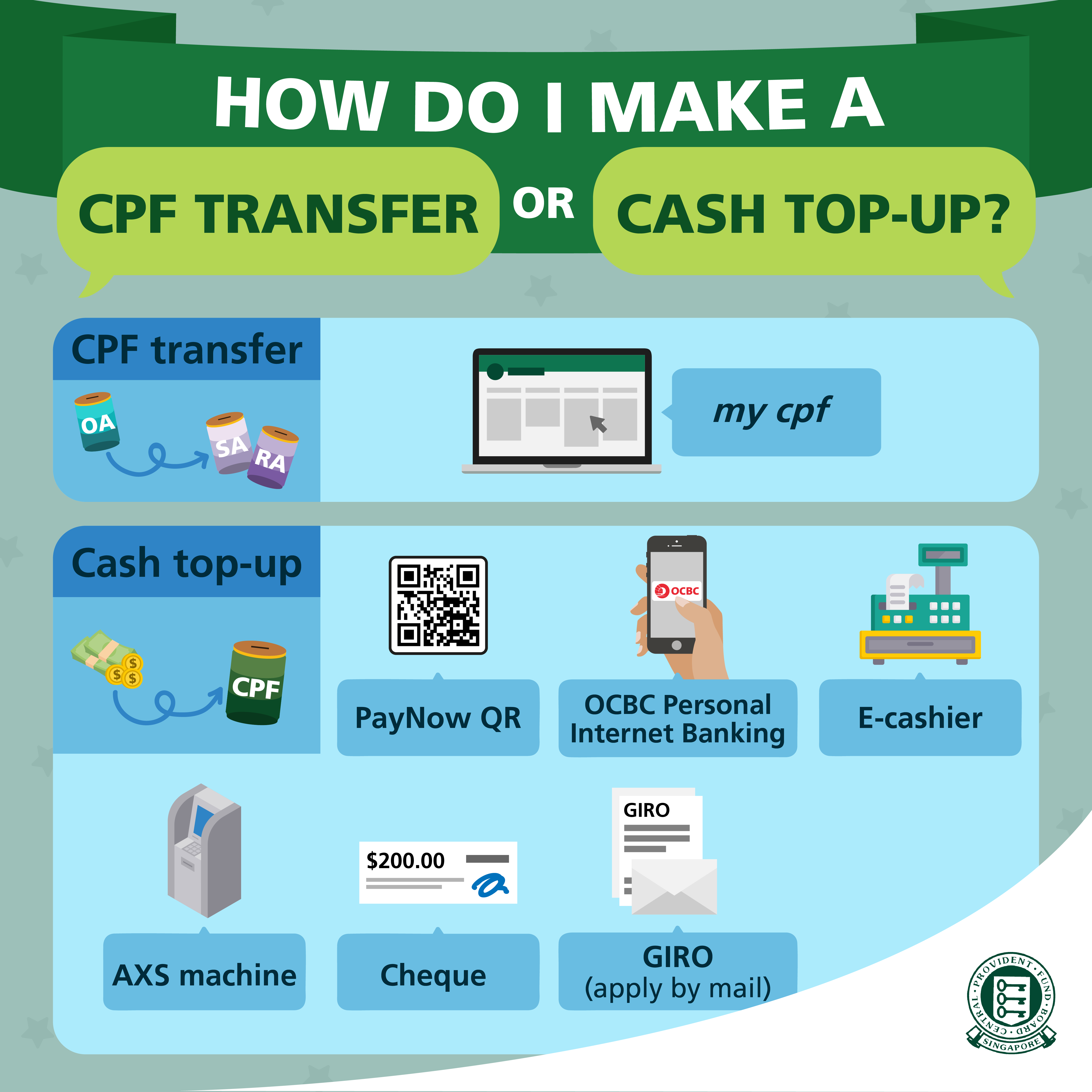 Using cash top-ups to SA, she can enjoy tax relief up to $7,000 per calendar year and applicable to current Full Retirement Sum (FRS), beyond FRS will not be entitled any tax relief. The 2nd step will require using my wife's OCBC Personal Internet Banking to transfer cash to top up my mother's Retirement Account. This will entitle her to enjoy further tax relief of additional $7,000 per calendar year but there is a cap of $14,000 per calendar year. The present personal income tax cap relief is $80,000 will apply for both cash top-ups and voluntary contributions to CPF accounts.
For my mother, she will be able to build up her Retirement Account and enjoy 6% interest p.a. which is much higher than bank interest and she is 67 years old this year. She can delay till 70 years to withdraw and continue to compound at higher interest rate. This method is possible as she has savings and does not require her to withdraw her CPF monies to supplement her daily expenditure.
Conclusion
Using cash top to personal SA and parents-in-law's SA, my wife will be entitled to S$14,000 tax relief and my mother will have S$7,000 top up to her RA. By repeating this method from 2019 to 2021, my mother will have approximately additional S$22,000 in her RA.