Firstly, I need to start with Tencent declaring a special interim dividend by distributing Class B ordinary shares of Meituan. For every 10 shares held by shareholders, you will get 1 Class B ordinary share of Meituan. This is rounded down to the nearest whole number of Meituan shares. I will be getting 240 Meituan shares. The record date will be 10th January 2023 and the dispatch of share certificates and CCASS settlement on 24th March 2023. CCASS represents the Central Clearing and Settlement System of Hong Kong Securities Clearing Company Limited.
Meituan is a company in China that offers diversified daily goods and services in the retail industry by utilizing technology that includes food delivery, in-store, hotel and travel booking, community e-commerce, and retail businesses.
Ma Huateng (Chairman and CEO) mentioned during the third quarter earnings conference that Tencent focuses on streamlining costs and activating new revenue-generating services, bringing back growth. Total revenue was RMB 140 billion, down 2% year-on-year but up 5% quarter-on-quarter. Gross profit was RMB 62 billion, down 1% year-on-year but up 7% quarter-on-quarter. Net profit to equity holders was RMB 32 billion, up 2% year-on-year and 15% quarter-on-quarter. Tencent is the leading platform for social games, videos, news, music, literature, payment, and mobile browser in China. The combined MAU of Weixin and WeChat was 1.3 billion. Mobile devices MAU of QQ was 574 million.
Martin Lau (President) mentioned for the last quarter, the focus was to tighten cost control and focus on resources and products. Sell and marketing expenses decreased by 32% year-on-year and 10% quarter-on-quarter. Tencent improved on margin improvement in business services. They cut down on workforces and reduce staff costs for noncore and underperforming businesses. This needs to be observed for the next 2 quarters whether staff cost is reduced further. There is only so much you can reduce in terms of staff cost and you need to have the barebone to keep the operation going and develop new products.
Video accounts and in-feed ads revenue has been ramping up fast since this was made available in mid-August. Tencent is on track to exceed RMB 1 billion in quarterly revenue in the fourth quarter. This gives you an insight into the last quarter's results for the year. For international games, new hits such as "Tower of Fantasy" and "Goddess of Victory: Nikke" shows their publishing capabilities are strong. The strategic partnership with Ubisoft will bring more franchises to the global market and PC titles to China.
In the SaaS business, Tencent is scaling its products. Recently, there is a subscription bundle combining WeCom, Tencent Meeting, and Tencent Docs which is seeing good adoption among the larger enterprise. Tencent is seeing positive signs of normalization in regulation by the government. This means the government is almost done with regulating the technology industry. For FinTech, commercial payment volume growth has recovered in the third quarter. Tencent received approval for investment in Samsung Property and Casualty Insurance in China. It is a wholly foreign-funded property insurer owned by South Korea's Samsung Fire & Marine Insurance Co Ltd. It entered vehicle insurance in 2010 offering direct marketing vehicle insurance. It also provides business insurance such as business property insurance, cargo transportation insurance, liability insurance, employee fidelity guarantee insurance, group accidental injury insurance, and engineering insurance.
Total cash seats at RMB 44 billion, stakes in unlisted companies have a value of RMB 48 billion, listed companies are valued at RMB 75 billion. The combination of cash flow generation and liquid asset holdings enable us to invest in the business while returning capital to shareholders. Tencent is investing in growth areas such as video accounts, international games, and SaaS products and improving the ecosystem for the e-commerce system for Weixin.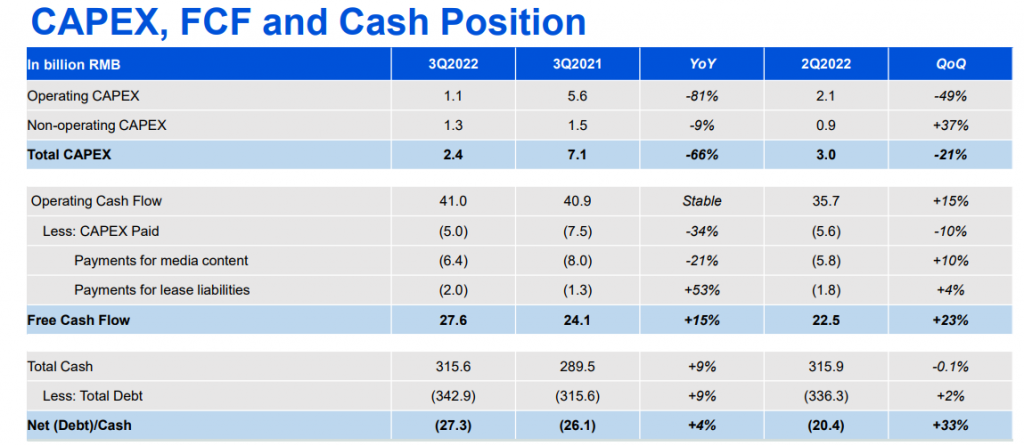 Capitalizing on Riot's esports experience, the Valorant Champions tournament became the most popular esports event industry-wide, expanding Valorant's fan base and achieving record-high gross receipts for the game in the third quarter.
Advertising revenue grew 15%, with the initial monetization of the Video Accounts in-feed ads and constant efforts to improve targeting technology. The Video Accounts have high demand from FMCG and high-end brands. FinTech and Business Services, segment revenue was RMB 45 billion, up 4% year-on-year and 6% quarter-on-quarter. Tencent Cloud enables customers such as banks and municipalities to store data on private clouds to integrate and deploy public cloud products within their private clouds. Tencent real-time communication is used in industrial use cases such as enabling remote control for mining and container trucks for customers to scale their operation while providing drivers with a safer working environment. Public sectors such as hospitals and schools are using SaaS tools to facilitate collaboration and online education.
There was a comment by John Lo that infrastructure as a service such as Amazon and Google are not having substantial SaaS business. There are companies like Oracle that provide software as a service with less infrastructure. Microsoft bridges the gap. In China, there are several big companies that provide infrastructure platforms and SaaS together, that's one key difference. The margins in the Western world are expanding and now services revenue growth slows, there is pressure on margins due to intense competition. In China, margins are weak, and declining because everyone is jumping to grab market share.
Ma Huateng explained the JV with China Unicom is to distribute CDN and multi-edge computing products that are codeveloped by Tencent and Unicom. Tencent believes there are good prospects going forward. The approval from SAM for the JV is a significant event. In the long run, this will be beneficial for both parties.