Business Outlook for Tencent
This quarter is interesting as we want to monitor the impact due to the new regulatory requirements. In the domestic games market, Tencent is complying with new regulations, focusing to reduce minors' game time and spending. Tencent is investing heavily in new technology frontiers while balancing the common prosperity requirement. To us, it means Tencent is striking a balance to grow its balance while surfing through the regulatory framework.
Communication and Social
For Weixin, they improve Video Accounts with sports coverage, games content through its recommendation technology. Video Accounts is growing, the number of active Mini Programs increased 40% year-on-year as they expand across different industries encompassing F&B, retail, and transportation. Retailers can integrate WeCom's enterprise communication tool with Mini Programs to engage online conversations between salespeople and customers. Think of this as Zendesk.
For QQ, they added Augmented Reality creation tools customized for festivals and landmarks to increase User Generated Content video, as well as cross-screen AR effects to enhance video call user experience.
Digital Content
VAS subscriptions grew 10% year-on-year to 235 million. Video subscriptions increased 8% year-on-year to 129 million due to the most-watched drama series across all online platforms in China for the third quarter. Think of this as Netflix. Music subscriptions increased 38% year-on-year to 71 million, as TME improves its music streaming experience. Think of this as your Spotify.
Domestic Games
Minors accounted for 0.7% of Domestic Games time spent in September 2021, declining significantly from 6.4% in September 2020. Current Domestic Games grossing receipts is 1.1% in September 2021 compared to 4.8% in September 2020. This small percent drop will not affect the overall business as the minors are not the most significant revenue contributor.
League of Legends: Wild Rift ranked second by Daily Active User (DAU) among all mobile games in China in October 2021.
International Games
Tencent is investing in global game development through scaling up China-based studios and international studios, injecting its funds to grow genre-leading studio talents with their know-how and technology. They are expanding into multiple regions. This gives investors comfort that they are growing globally and will derisk the focus in China's domestic games industry.
Online Advertising
Advertising revenue growth has slowed and they expect this to remain soft for several quarters and regulations which affected the key advertising sectors. They express that 2022 will be muted and growth will only resume thereafter after finding their footing.
Fintech
For payments, DAU and payment frequency are healthy growth rates, offline commercial payment volume growth is hampered due to control measures against COVID-19 resurgence.
Cloud and Other Business Services
CRM SaaS Tencent QiDian has more than 1 million enterprises and is increasingly adopted by medium and large enterprises. Database PaaS solution, TDSQL has more than 3,000 clients from finance, public services, and telecommunications. The TDSQL serves six out of the top ten banks in China, and more are onboarding due to trusted data security and reliability. This poses as the biggest growth factor for Tencent. The total addressable market in China for CRM and database is very big and once clients are onboard, it is a very sticky business. Just like Oracle, you won't want to risk losing your database.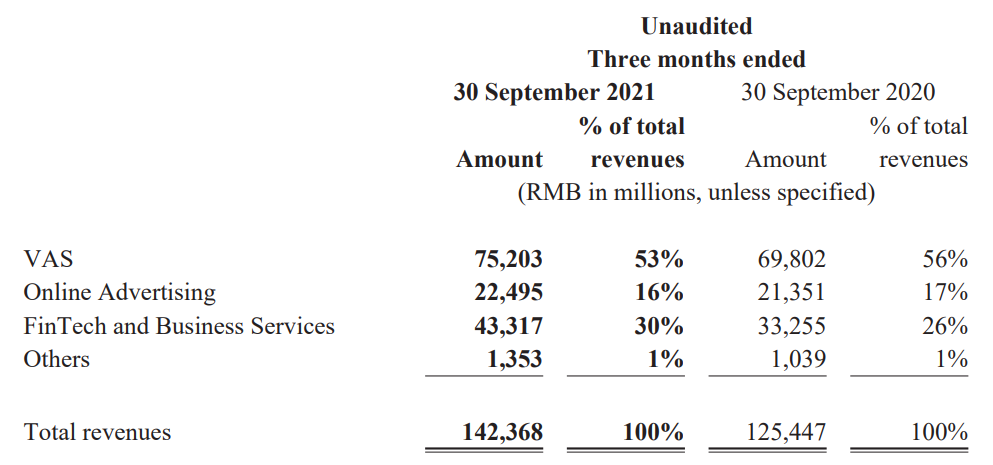 VAS which comprises more than 50% of the revenue contribution still experienced healthy growth from RMB 69,802 million to RMB 75,203 million. We will be interested to see when the esports segment will grow. Currently, the growth is muted. We can see stale growth in the Online Advertising segment with Media Advertising dropping by 4% to RMB 3.5 billion due to lower advertising revenues from the Tencent News app. Fintech and Business Services is the bright spot which grew by 30% to RMB 43.3 billion on a year-on-year basis.
It is always interesting to look at Tencent's investments, you are buying the largest VC company in China when you own Tencent's shares. Listed entities worth RMB 22,311 million and unlisted entities worth RMB 160,835 million.
Conclusion
This quarter we start to see that the regulatory framework is affecting the gaming sector slightly and there's a more adverse effect on its online advertisement segment. Tencent is diversifying into other growth areas to offset those affected segments, creating value for society.