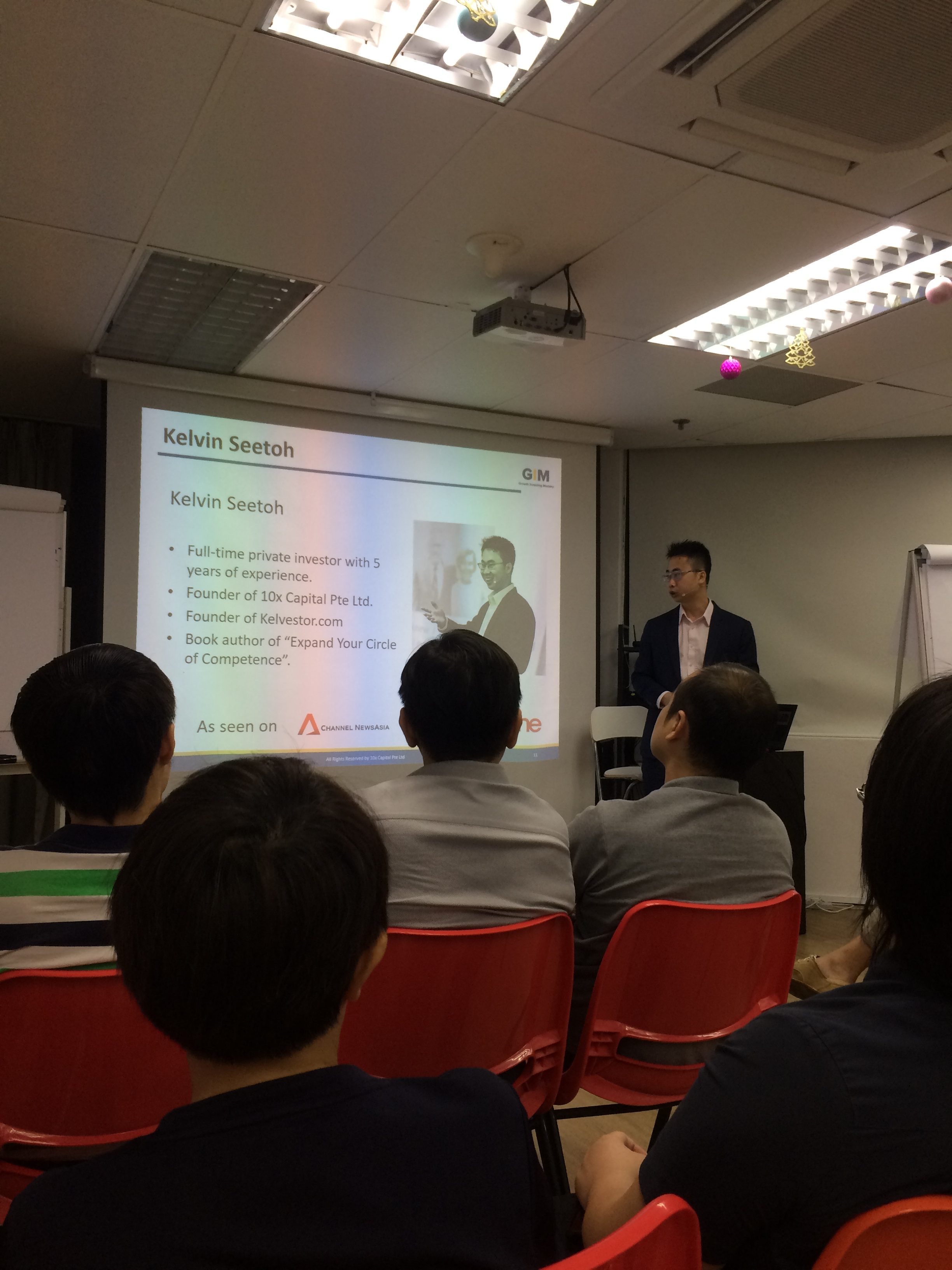 I attended a preview called Growth Investing Workshop by Kelvin Seetoh. He is running this business with Jonathan Ang. Overall the pace is good, his personal sharing on his background is inspiring and not too lengthy. He is quite generous in his sharing on growth investment for the next 1 hour, leaving the last 30 minutes to explain how his offer can value add to people who are keen to sign up. There are a lot of resources and value in his offer. I will strongly encourage everyone to take a look and make decision yourself. He adds a lot of value and very generous in sharing his knowledge since days I know him from 8i. The below is a brief summary of his sharing.
Characteristics of Multi-baggers
They started as small companies. Underdogs grow their revenue faster than big companies. Look at companies with Market Capitalisation of 200 m – 600 m. When company becomes bigger, it is harder to grow. If you see that y-o-y revenue growth is stagnant, you need to switch out the stock. Your hard earn money needs to be put to better use.

For past 3 years results
Net profit margin > 10%
ROE > 15%
Net Debt to Equity Ratio < 50%
Positive Cash Flow
Profit Margin – Don't buy a company with low margin because they are in a price sensitive environment and highly competitive. The best Management is when the CEOs are founders, hired management are short term thinking. Buy business operated by founders, need to look out for clues that their interest is aligned with shareholders and not out there to cheat your money. Next look at the Annual Growth Rate in Sales and Profits – Is the company sales increasing? Sales must be increasing by minimum 10% Y-O-Y. Great Quality – Business model, is it a strong business? For F&B business there is a lower barrier of entry when compared to Facebook and Visa. Another example, distributor business is a low margin business and it is not a good business model. Enormous Runway – Can it grow bigger in the next 5 years? Challenger will not grow in next 5 years, Lazada is a strong competitor to Challenger with minimum rental cost when compared to Challenger and it is throwing in huge discount to kill its competition. Google is growing at least 15% every year. Great Sector – sun rise sector. Eg, SPH and Singpost are dying companies. You need to put your money in sunrise industry. Right Price – Great companies purchase at a high price will not make a good investment, buy great company at a reasonable price can make great money. For every company, there is a right price to pay for it.
Use a Framework
If the tree has not bear fruit and you sell the stock already, you cannot get to enjoy the fruit. If you are not in a hurry to sell the stock, hold it. Unless you can buy another faster growing company, just hold on to existing company. You need to have an investment framework which you can repeat your investment strategy. This is part of the investment system which Kelvin can offer.
With increasing retrenchments, jobs are made redundant by robotics and AI where skill sets are no longer relevant. Government is emphasizing on training and acquiring new skills. There is no more job security in this modern world. It is important to create a secondary source of income. Take action to do something about it to protect your family. At the start of this year, just choose very good stocks and do nothing after buying them. The key is Consistency. We are set to create permanent wealth not temporary wealth. You need to learn this financial skill set which can help to create permanent wealth.

Kelvin is the real stuff. Hear from him personally on what he can offer you. The price is going to cost less than what you can lose in the future. Learn from others' experience, it will cost less.