SHILLER PE RATIO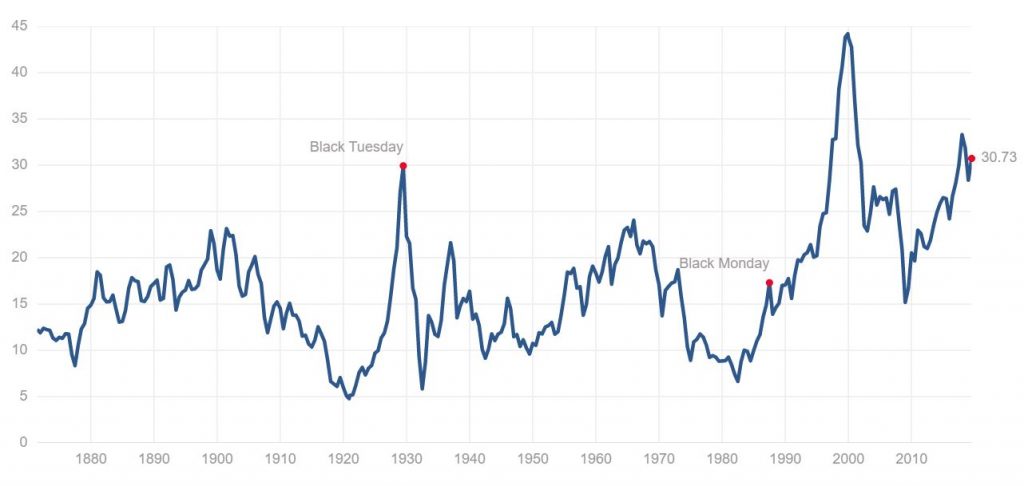 Shiller PE ratio is defined as average inflation-adjusted earnings from previous 10 years known as Cyclically Adjusted PE ratio. The above image is Shiller PE Ratio for S&P 500. It can be seen in 1930 when the market crashed which was known as Black Tuesday the Shiller PE ratio was around 30. In 2000, the dot com crash was around Shiller PE ratio of 45. In 2019, Shiller PE ratio is at around 30. Why the share prices are increasing way faster than their earnings? Some of the companies are buying back their shares using debt to increase their shares but the companies are not growing. From the Shiller PE ratio, it is shown that currently the S&P 500 is overvalued.
Overvalued market means time to hold cash?
We need to ask ourselves whether the corporate profits are getting higher, businesses are getting stronger and whether dividends are increasing when compared to the stock prices' growth rate. If it is not proportionate, it means that the market is bound to return to the norm and share prices will bound to correct significantly in the near future. The market is a self-balancing system. We do not know when exactly the market will drop in prices. We just need to compare the business of the company which we are buying and compare that to its earnings.
With an overvalued market, we are trying to predict the market. Does it mean we should take shelter in all cash position for our portfolio? Should we continue to stay invested? Some feel that having cash is king and we need cash in our warchest.
Pros and Cons of holding Cash
With a warchest of cash, we can take advantage when an opportunity presents itself. We can choose which assets to acquire, the portion of cash to invest in or wait for the asset class becomes very undervalued. For instance, if a freehold condominium in Singapore drops from S$2,000/psf to S$1,000/psf, we can deploy our warchest to buy an unit to take advantage of the discount in price.

The downside of holding lots of cash will be erosion by inflation. There is an opportunity cost of holding on to cash. If the wait takes years, you will lose out on years of returns.
What is the Required Return?
We need to ask what is our required return which we are looking for. If we are looking at 6-10% return, we can focus on investing in great business over the long term.

If we are to look at investing in Index Fund, it needs to be for long term investing. For instance, if you are 35 years old this year and intend to retire at 65 years old, you can consider buying Index Fund. Short term investment for next 3 years in Index Fund such as SPY which is SPDR S&P 500 ETF Trust may not generate the average 8% return as the market is overvalued. You may see lower return or even negative return over the short term period.
What is strategic asset allocation?
As retail investors, we do not need to have alpha. Alpha is to create higher returns than the average market return by using different strategies such as knowing when to buy and when to sell. As retail investors, we can choose not to time the market, depending on investment time horizon. If you need your money in next 10 years, you should not have significant money in the US market as the present valuation is high and forward return of broad market level will be lower. If you have a short time horizon, you need to be more defensive than those with longer time horizon. Given a longer investment time horizon, you can stay invested and continue to invest new capital on a timely basis such as quarterly.
Focus on Individual Business not the Macro
As retail investors, we need to scrutinize individual business. We aim to achieve 15% return on our investment and obtain a minimum 20% margin of safety in the share price. With certain key criteria, we can invest into the business and continue to let the business compound its growth.

There are businesses which continue to thrive even in recession or depression. The key is to buy wonder business at fair prices or better still at undervalued prices.
Conclusion
Everyone's situation is different. It depends on your present financial situation. Maybe you are struggling with your business cashflow, or keeping your day job or you are debt free. I saw an interview with Warren Buffet, he quoted if you are near your retirement age, without debt or obligation, holding to a portfolio of 1 million which generates a 30k dividend per annum, you can take on more risk and remain invested.

Do adjust according to your present situation, try to keep your cash level at a maximum 25% and continue to stay invested. The key is to be consistent and do not try to time the market.