I met my MBA friend and we both agreed that other than working in your day job, you need to spend additional time to work for yourself and build another source of income. I commit my time to look at an individual company's financial reports everyday and if it is worth a second look, I will spend additional time to deep in it.
Walgreens Boots Alliance NASDAQ: WBA 
Business Overview
Walgreens Boots Alliance is a global leader in the pharmacy retail business with the largest drugstore chains in the USA. The International Division has retail business in eight other countries, United Kingdom 2486 retail stores, Mexico 1193 retail stores, Chile 430 retail stores, Thailand 277 retail stores, Norway 160 retail stores, Republic of Ireland 86 retail stores, The Netherlands 63 retail stores and Lithuania has 27 retail stores.
The Boots offering is differentiated through products own by the company such as No7, Boots Pharmaceuticals, Soap & Glory, Liz Earle, Sleek MakeUP, Botanics and the "only at Boots" exclusive products.
Boots UK is one of the leaders in the optical market with 637 practices of which 178 operate on a franchise basis.
In the Pharmaceutical Wholesale Division, which operates under Alliance Healthcare brand supplies medicines, other healthcare products and related services to more than 110,000 pharmacies, doctors, health centers and hospitals each year from 289 distribution centers in 11 countries.
AmerisourceBergen Corporation – Walgreens Boots Alliance owns 26 percent of AmerisourceBergen. It is one of the largest global pharmaceutical sourcing and distribution services companies. The net earnings attributable to this investment are classified within the operating income of the Company's Pharmaceutical Wholesale segment.
Guangzhou Pharmaceuticals Corporation – Walgreens Boots Alliance is reducing its stake in this company. It used to be a 50:50 JV with Guangzhou Baiyunshan Pharmaceutical Holdings Co., Ltd (874:HK). In December 2017, it was announced that WBA will sell 30% to its partner and Guangzhou Baiyunshan Pharmaceutical Holdings will hold 80%. This JV is a pharmaceutical wholesaling and distribution company in Guangzhou with revenue close to 16.9 billion CNY. I took a look at 874:HK Guangzhou Baiyunshan Pharmaceutical Holdings and realize than it had shot up HK 20 to HK 42 since the beginning of this year.
Nanjing Pharmaceutical Company – the sixth largest pharmaceutical wholesaler in China with market cap of 5.36B CNY.
Option Care Inc – offers specialty and home infusion pharmacy services in United States. It is the market leader with 36 years of home infusion experience.
Financial Overview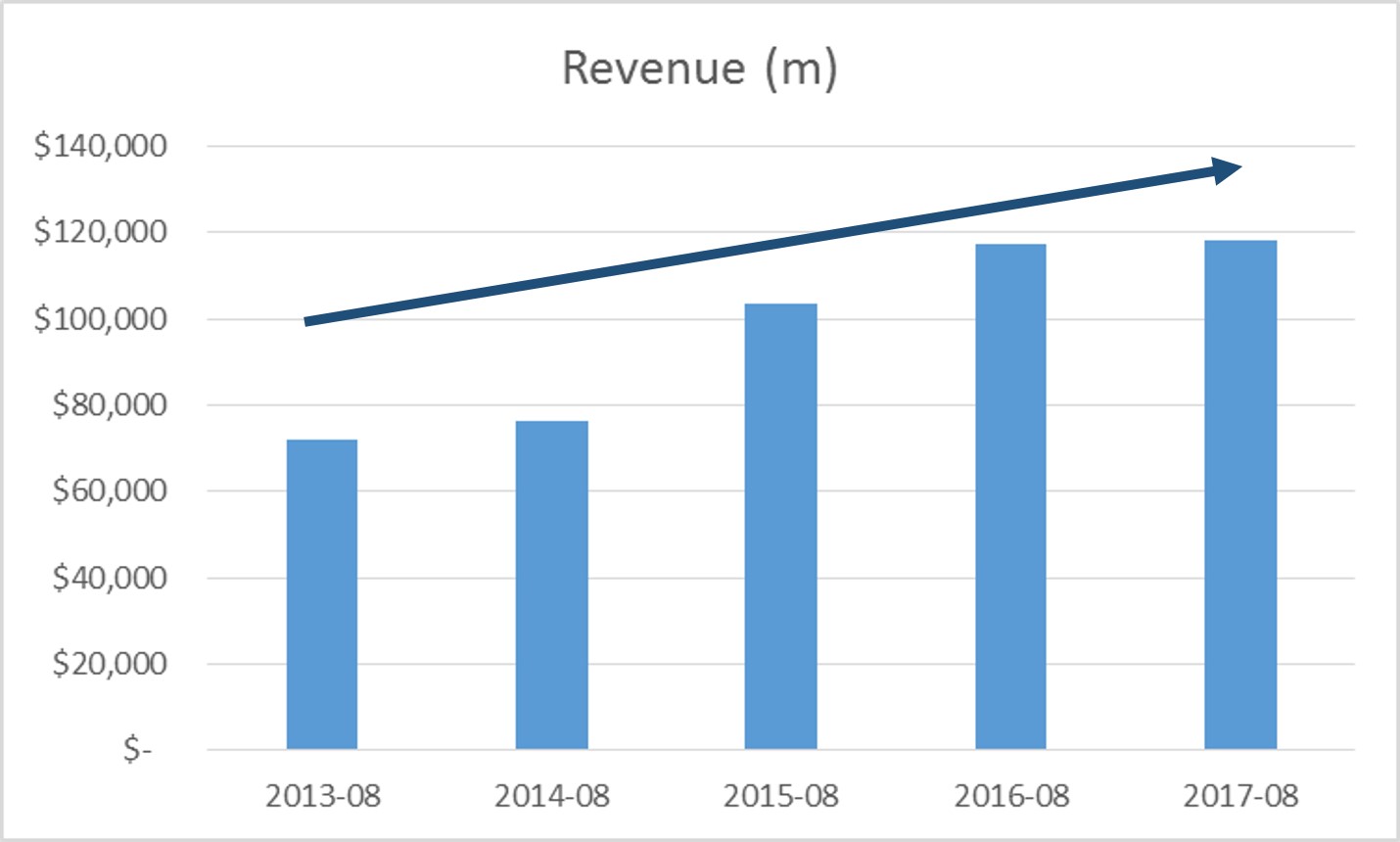 The revenue is generally well maintained at around USD 100m – 120m from 2015 to 2017.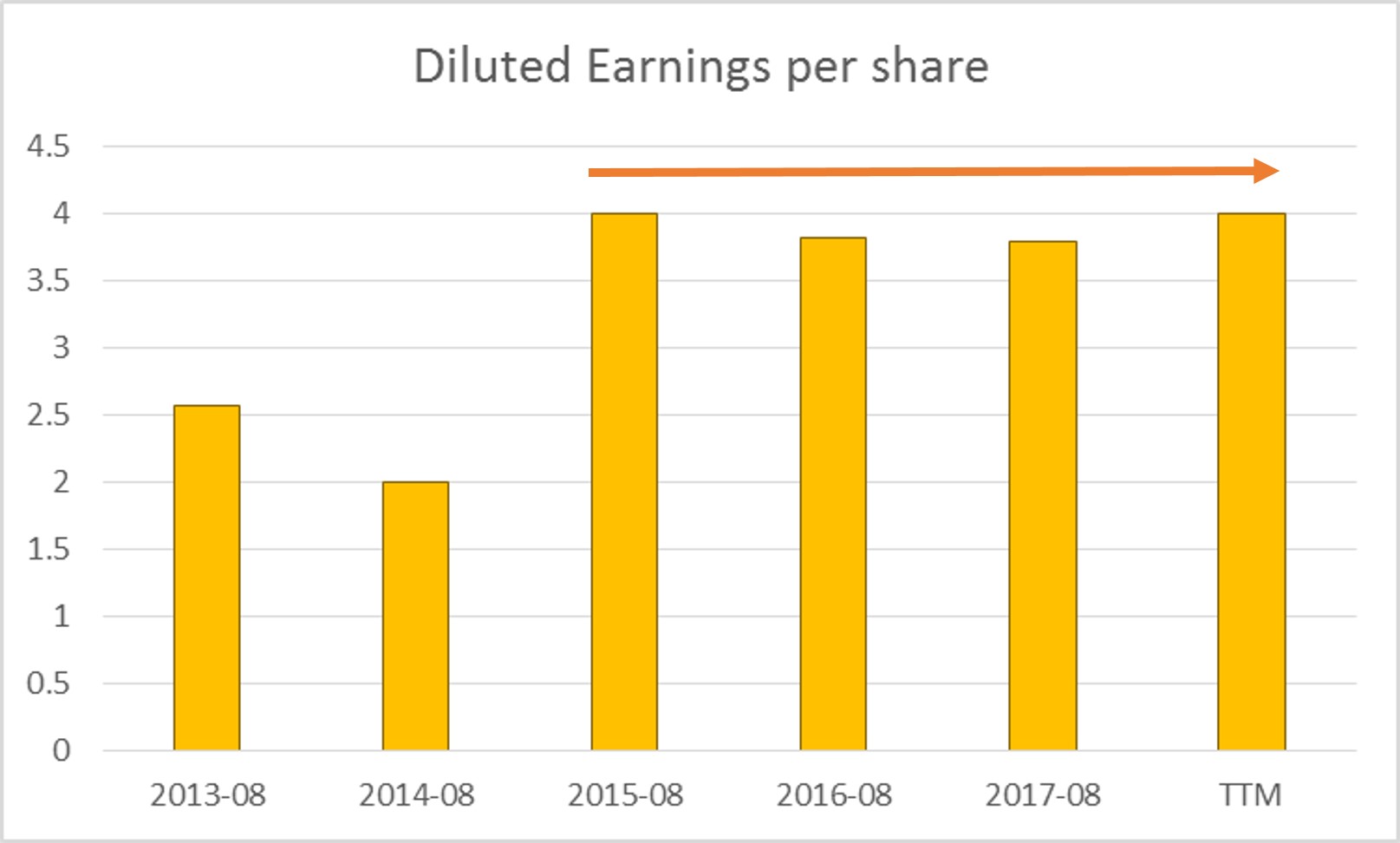 Earnings per share is slightly deteriorating from 2015 to 2017.
Free Cash Flow has remained positive throughout the last 5 years, 2014 has a drop due to the acquisition. Overall WBA has strong positive free cash flow.
The Debt to Equity Ratio has increased from 0.8 between FY2013 and FY2014 to 1.4 in FY2016.
Comparing the EV/EBITDA of WBA with international peers, other competitors which has an average EV/EBITDA of about 8.5 (based on Capitalcube).
ROIC is relatively lower, ROE is around 14%, Days Inventory is decreasing to 36 days and Days Payable is increasing to 48 days.
Conclusion
WBA has economic of scale through its huge distribution networks and presence in many countries. WBA made investment in other international companies to increase its distribution networks. However, the growth of the company at this scale can only be increased through acquisition and merger.