Farm Fresh is my favourite brand for fresh milk when I stayed in Malaysia. Currently, we buy this brand of fresh milk on a weekly basis. Well, it is the 2 Litres fresh milk and not the one shown in the image below. Farm Fresh is heading towards IPO. IPO consists of Institutional Offering and Retail Offering, totaling up to 743,181,900 IPO shares. Retail Offering involves the offering of 55,738,700 Issue Shares. Only 37,159,100 shares are issued to the Malaysian Public.
Majority Shareholders

Mr. Loi and his family will have 70% shareholding ownership on Farm Fresh and 30% is under Agrifood Resources which belongs to Khazanah Nasional Berhad. CIMB is the underwriter for the IPO.
Competitive Advantages
Farm Fresh is the largest integrated producer of dairy products made from fresh milk in Malaysia as of 2020, their business starts from dairy cow farming until the packaging of its milk reaches consumers.
Farm Fresh has a wide portfolio of brands that are well recognized by local consumers and they are pushing out new products to suit consumers' tastes.
I like plant-based milk as you can compare them to Oatly and Vitasoy.
Farm Fresh owns one of the largest gene banks of the original AFS cattle globally, coupled with animal husbandry practices helping to generate and maintain high production and milk quality.
Its strong multi-channel distribution network covers all states and key cities in Malaysia, delivering products to a wide range of customers in Malaysia.
Risk Factors
Farm Fresh's revenue is mainly concentrated in Malaysia, it needs to penetrate further into the international market. It has concentration risk in its home country.
Khazanah National is the strategic investment arm of the Government of Malaysia and one of its key shareholders. This will help to alleviate the risk for licenses, permits, approvals, and certificates from relevant government authorities not to be issued for them to operate.
Farm Fresh's business will be affected by pandemics and diseases such as mad cow disease. This will cause their revenue to be adversely affected.
To cater for expansion, there will be additional operational costs such as buying more farmland, hiring of personnel, adding vehicles, processing equipment, and marketing fees. These costs will affect future prospects of the business. Coupled with that the margin of the industry is low due to very steep competition.
Financials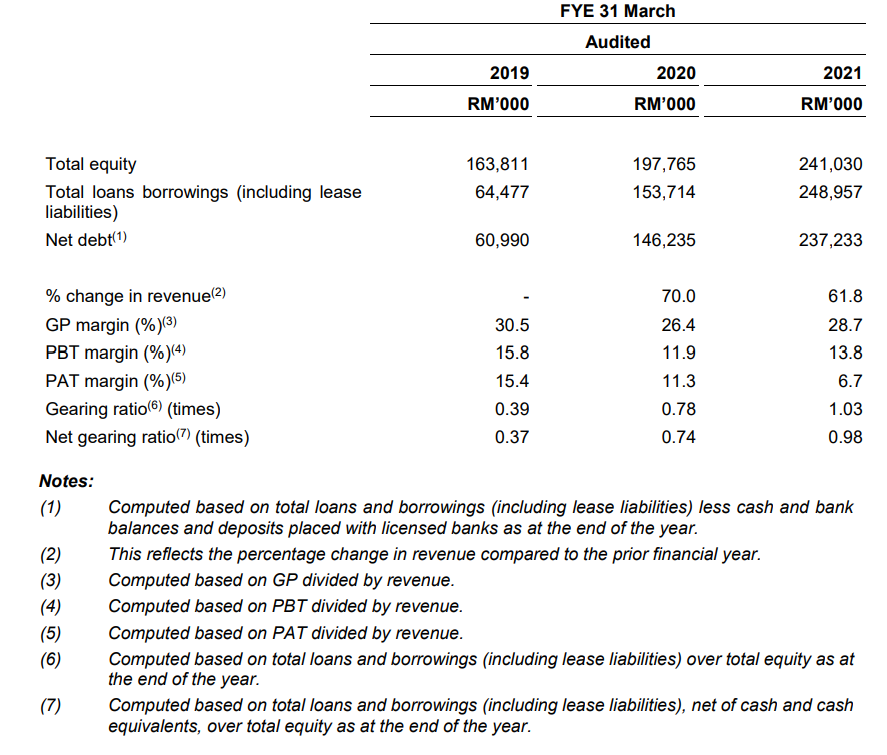 Based on the Edge, there's a source that suggested the IPO market cap is around 2 Billion, its Enterprise Value is around 2.237 Billion. The EV/EBIT will be around 2237/77 = 29x. Vitasoy's EV/EBIT is around 36x. Dutch Lady Milk Industries EV/EBIT is around 20x. The IPO if at 2 Billion will be on the high valuation side. If IPO is 1 Billion, then it will be an attractive IPO price.
Its net gearing ratio is on the high side as over the last two years, Farm Fresh leveraged to expand its growth story to increase its revenue. This move is to pave its way towards IPO. The debt level needs to be monitored after its IPO. In a rising interest rate environment, high debt will affect its cash flow later on. Shareholders may expect more dilution if this does not improve.
Growth Plans
Farm Fresh will use its IPO proceeds to grow its market dominance in Malaysia by expanding upstream capacity and widening its distribution network.
Farm Fresh will continue to strengthen its product development, distribution network, and product quality to improve the product offering.
Farm Fresh will increase production capabilities in Australia through expanding the Kabram facility as well as expanding its operations in Malaysia and Singapore for export to other markets in South East Asia and the Asia Pacific regions.