Updated on 21st August 2021, Updated on 21st November 2021
Introduction
What is Unity Software? You got to watch this video. Unity Software (NYSE: U) is the world's leading platform for creating and operating interactive, real-time 3D content, providing the tools to make amazing games and publish them to a wide range of devices. The Unity platform allows creators to create games, 3D product visualization which can incorporate augmented reality, virtual reality, and 3D product data. Unity Reflect software is used for the architecture, engineering, and construction sector.
Competition
There are many other 3D visualization software and platforms such as 3ds Max Design, Blender, Maya, Cinema 4D, Unreal Engine, Amazon Lumberyard, Adobe Animate, and many others. Among all competitors, I have a special liking for Unreal Engine as I had played games using Unreal Engine.
Founded in 1991, Epic Games is the creator of the Unreal, Gears of War, and Infinity Blade series of games. Today Epic is building Paragon, Fortnite, SPYJiNX, and the new Unreal Tournament. Epic's Unreal Engine technology is used by teams of all sizes to ship visually stunning, high-quality games and experiences across PC, console, VR, and mobile platforms. Developers also choose Unreal Engine for visualization, design, linear entertainment, and simulation.
Recent Results
Unity Software reported strong second-quarter earnings. The revenue jumped 48% to $273.6 million, crossing $1 billion in annual revenue run rate. Unity continues to expand aggressively into other non-gaming markets for a growing array of usage in different industries such as automotive and consumer products. Unity sees RT3D as the inevitable evolution of the way people engage with digital content, which has become more commonplace across enterprises and industries.
Growth Engines
Unity commands over 50% market share in the game engines. The CEO Riccitiello who previously served as CEO of Electronic Arts noted that gaming devices are becoming more powerful and developers compete based on content and art. They want to focus to serve the artists within game studios.
Apple crippled ID for Advertisers (IDFA) which is a critical tool that advertisers use to target ads. Unity stock priced dropped in the first quarter due to investor fears this will affect its Operate Solution business which helps developers monetize apps with advertising. Unity's platform is providing alternative ways to target ads, develops a contextual model that analyzes 50 billion in-app events across 20 platforms per day, giving a trove of data with user engagement without relying on IDFA. Unity's Operate Solutions segment was the largest ($182.9 million), growing at 63%.
Why I am selling then?
I bought at a total average price of USD 123 with 100 shares. I had executed a few sells puts at USD 80, USD 90, and a few sell calls. Finally, the sell call has caught up with me. It will be due on 20th August 2021 and I believe the shares will be called away. The various options have created a total premium of USD 5.5/share. Hence I will make a profit of USD 2 (125 – 123) + USD 5.5 = USD 7.5 x 100 shares for this. I am capping my profit.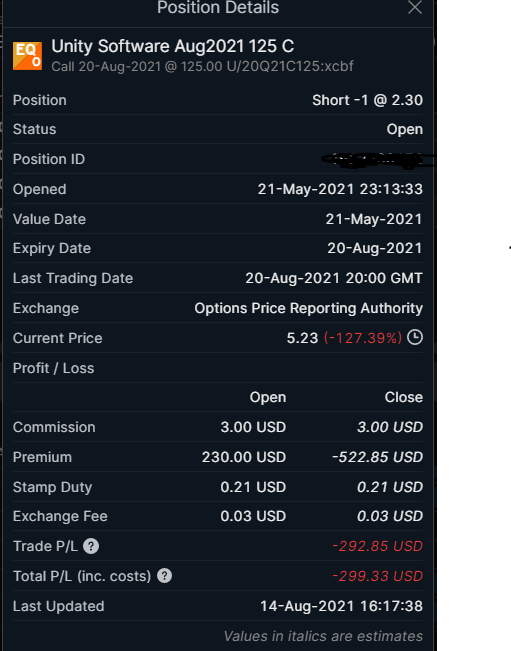 As of today 14th August, the share price is as per below. The market closes at USD 128.87/share but my profit will be capped at the share price of USD 125/ share due to the sell call option. Hence, I am leaving USD 4/share of profit on the table at this moment, praying that the share price will drop down to below USD 125 on 20th August close of trading. Looking at the breakout formation, the share price will just hit a higher high.
Lesson learned: Never sell a call at earnings. Premium can be better but you cap your upside. Nobody becomes rich when their earnings are capped.
Update on 21st August 2021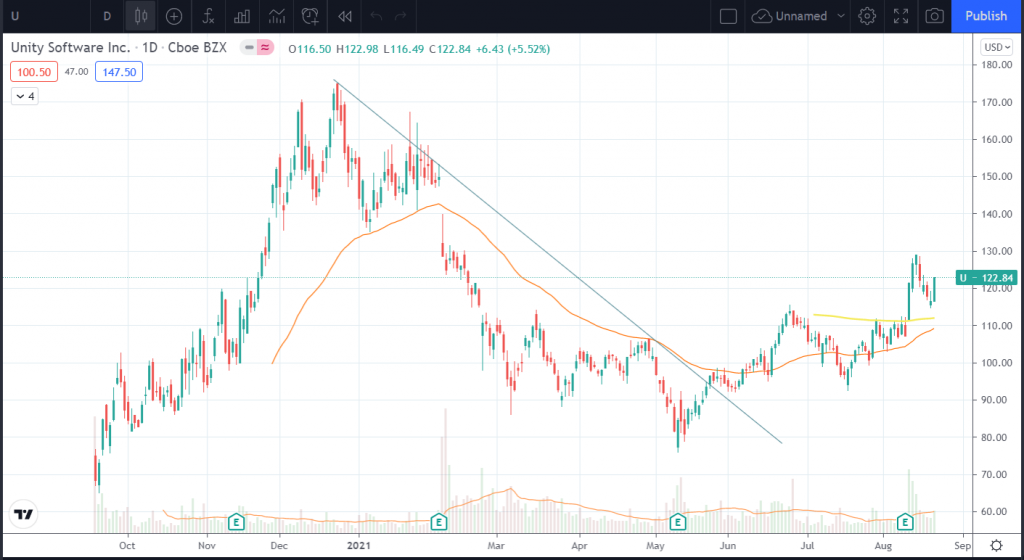 Just want to post an update to this article, it is by sheer luck that the Sell Call option for Unity Software expired worthless on 20th August 2021. This means the stocks are not called away and remain in my portfolio.
Update on 21st November 2021
This links back to a Sell Call which I did in October which you can find here. In my investment and trade journal, I was thinking that when I sell this Call, it was 18th October 2021, the share price of Unity was USD 138-140. I was thinking that at USD 175/share, I should be satisfied even if was called away.
Facebook … sorry Meta's Mark shared about Metaverse, he talked about EPIC games but he did not mention Unity. I thought this is alright, let us tide through the post-earnings period. The results were decent and they bought Peter Jackson's Weta Digital for USD 1.6 Billion. The share price dropped back to USD 150/share for a while and it started climbing to USD 190/share in a day's effort. The highest it shot through the roof at USD 210/share.
I can only blame my itchy fingers for selling a Call option, cap your upside and you should always remember this lesson. You are not going to be lucky all the time, one day luck will catch up with you.
Goodbye Unity!